Below are three takeaways from wide receivers Keenan Allen, Mike Williams and offensive coordinator Joe Lombardi's press conferences on Wednesday, as the team kicked off the second week of OTAs.
Keenan Allen: 'We have something special going on'
The first team practice during Week 2 of OTAs brought some extra energy on the field as Chargers four-time Pro Bowl OLB Joey Bosa was in attendance, marking the first time he took the field with fellow OLB Khalil Mack.
Following practice, Chargers offense coordinator Joe Lombardi talked about what it says to have almost the entire roster in attendance for the voluntary workouts.
"I think that [Head Coach] Brandon [Staley] has done a really good job of building that team culture here," Lombardi said. "It's a good group of guys. It was last year, too, but adding those veterans that have a lot of pelts on the wall, we're very excited about it. You can kind of feel the energy from the defense with some of those additions. It's going to be a fun training camp, for sure."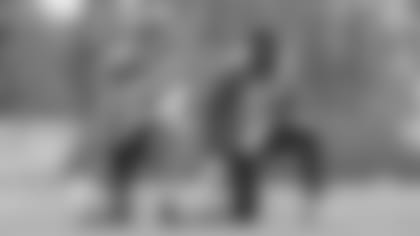 Wide receiver Keenan Allen, who said he feels as 'strong as [he's] ever been' heading into his 10th season with the Bolts, talked about why he feels there's 'something special going on' this offseason.
"The culture is growing," Allen said. "You have guys like myself, [S] Derwin [James Jr.], [QB Justin] Herbert. [OLB Kyle] Van Noy is here. [OLB] Khalil Mack is here. [OLB] Joey Bosa showed up today. [WR] Mike Will [Williams] is in the building. Those are guys that you don't expect to be at OTAs. When we all show up, come out to practice and come to the meetings, it lets you know that we have something special going on."
Allen's competitive mindset stays the same going into each year, but this year, the veteran receiver can see the difference out on the field - even at OTAs.
"Does it look different?" Allen asked on how this year's team feels compared to previous years. "Absolutely. Just every position has All-Pro, Super Bowl, superstar talent. You can see it when we practice. It's amazing."
How the offense can grow in 2022
Despite 2021 being the first season with Lombardi calling the plays on offense, the Chargers put together the fourth-ranked offense in the NFL with over 6,600 yards in total offense last season.
With a year under his belt as the Bolts OC, Lombardi said there's a lot less stress knowing the extra familiarity the team has with the terminology on offense.
Lombardi talked about how the offense can take the next step in 2022 to be one of the top units in the league.
"I think consistency," Lombardi said. "You look at the stats, they were relatively positive, but there were stretches where, maybe, we didn't perform like we wanted to. Just being more consistent, game in and game out, quarter in and quarter out. Our familiarity with the personnel, knowing exactly how we want to use them, we'll be further along, as a coaching staff. All of those things will play into it."
Allen, who recorded his fourth season of at least 100 receptions, explained he feels the offense has the potential to grow 'a lot' next season.
"We left a whole lot on the field," Allen said. "I think we led the league in drops. Obviously, fourth down was big for us. Third down wasn't great. I think we can get better on third down and just understanding the offense. Like we just said, just understanding the offense, being in the second year. [QB Justin] Herbert being able to make changes. Just keep finding ways to get downfield."
Fellow wide receiver Mike Williams also spoke on Wednesday about the outlook for the 2022 season and how important the added 'confidence' on offense is as they build off of last year.
"Year one, obviously, you're going to have your ups and downs," Williams said. "Year two, everybody plays with a lot more confidence. Everybody knows what to expect now. I feel like year two is going to be a lot better."
Herbert and Lombardi's connection in year two together
Lombardi's second season with the Bolts also allows him to build on his relationship with quarterback Justin Herbert. Lombardi explained Herbert's 'bandwidth is a lot wider' when it comes to the offense and what that will allow him to do in the second year of the system.
"First and foremost, it's just familiarity with all of the play calls," Lombardi said. "Last year at this time, it was just hearing the play, repeating it in the huddle and understanding what the play is — that was a lot of calories burnt last year. This year, he has that part down. He can focus on what the defense is doing a little bit more, get his timing down with the receivers and all of that. It's everything."
Lombardi credited Herbert's work ethic and study habits for his ability to take on the task of learning a new offense last season and explained what he's learned about Herbert over the past year.
"He's just such an intense guy when it comes to football," Lombardi said. "He's such a perfectionist. That desire that he has to be great, and then his stamina for studying and working at it, is impressive. Shane Day, our quarterbacks coach, he works the heck out of him and he never gets tired of working. That's a huge positive."
Williams also talked about the growth he's seen from Herbert during the first two years of his career.
"As a quarterback, especially how he started off with going in unexpectedly and seeing the tremendous growth he had from then to the next year has been crazy," Williams said. "You see that it's a big difference."
Bolt Up for 2022!
Secure your 2022 Season Ticket Memberships today! Click here to learn more.