It was just after 4 p.m. on Tuesday and Justin Herbert was the only player in the Chargers locker room at Hoag Performance Center.
The Bolts had landed less than 12 hours earlier from Indianapolis, where they had picked up their third consecutive win to improve to 9-6.
More importantly, however, the weary but elated Chargers had also clinched a playoff spot.
As the Bolts quarterback worked through his recovery day and began preparing for the Rams, he opened up on getting his first chance to play on the postseason stage.
"Just watching Tom Brady and Peyton Manning, Drew Brees … I had so much respect for them and all the success they had in the playoffs," Herbert said. "Your job as a quarterback is to be the best teammate and quarterback you can be, and you need to put yourself in a position to win.
"The entire goal of playing in the NFL is to be the best. It's unfortunate that the past two years we didn't give ourselves a shot in the playoffs, but we've earned it this year," Herbert added. "That chance is all you can ask for. Just go play football and hopefully we're playing our best at the end of the year. We're ready for the challenge."
Herbert now has nearly three full seasons of starting NFL experience in his pocket. His resumé is littered with plenty of personal accolades, including a Pro Bowl, Rookie of the Year honor and countless passing records for a player in their first three seasons in the league.
The only thing that had been missing is a playoff appearance, but that will change in mid-January.
And when you're only one of a handful of teams left playing, it's natural for the spotlight to shift to the quarterback.
"We know that the quarterback, that position, what really defines the quarterback position is winning in the postseason," said Chargers Head Coach Brandon Staley. "His first two years here have been nothing short of amazing. I think that he has played well enough to be in the tournament. Certainly, last year, was an incredible year for us. We all know what he did to lead us to nine wins.
"We fell a little bit short last year, but his play was representative of a quarterback that can lead you to a world championship, and this year has been no exception," Staley added. "Quarterbacks are defined in the postseason, that's how the history of this game is written, is in the postseason. Now, he gets an opportunity to compete."
Herbert, naturally, deflected any credit for the Chargers playoff berth, noting that "these guys have earned it" while looking around that empty locker room.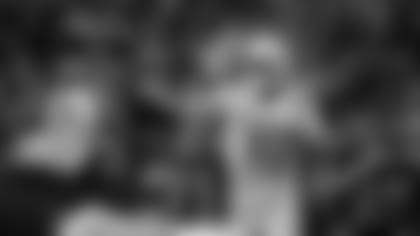 As a team, the Bolts battled through plenty of adversity this year to secure their postseason spot.
But it has been a trying season for Herbert, too, who dealt with torn rib cartilage after Week 2, injuries to key skill position players and six different starting line combinations in front of him.
He paused for a second when asked how mentally taxing this season has been on him.
"There were a couple times where you lose guys to injuries, and it just wasn't working for us," Herbert said.
Those closest to Herbert have seen him evolve with his mental stamina as the weeks have passed.
"You have to be mentally tough as an NFL quarterback. That's one of the prerequisites of it," said Chargers backup quarterback Chase Daniel, who is a dozen years older than Herbert. "He's dealt with injuries and other things, so him just being steady with the ebbs and flows of the year.
"There's no one in this locker room that works harder than him," Daniel added.
Daniel said he's also seen — in a good way — a different version of Herbert this season.
Herbert has come out of his shell a bit, whether that's emphatically spiking a ball in the postgame locker room after a win over the Dolphins or by being a regular at team-wide dinners.
"He's really taken ownership of the offense, but also the team, as well," Daniel said. "Just his leadership and what he's been able to do, not only on the field but off the field as well.
"He's putting himself out there a lot more. He might be a little more introverted [than most]," Daniel added with a quick smile. "But he's really been awesome this year, just great to be around."
As the final two weeks of the 2022 season loom, Herbert is on pace for the lowest touchdown total of his career. Not that he cares.
In the most trying season of his young season — both physically and mentally — the 24-year-old has once again proven that he's a franchise quarterback.
Now he can add playoff quarterback to that sparkling resumé, too.
"It's important for a quarterback, through the good times and bad times, to be able to win. I feel like we've done that this year. Guys have gotten hurt, we've lost some close games … but we've battled," Herbert said. "We know that we've got a chance, we have a shot. We still have each other and we're going to go out there and play.
"I'm really excited to be a part of it," Herbert added, "and I think we have a lot to look forward to."
Bolt Up for 2023!
Secure your 2023 Season Ticket Memberships today! Click here to learn more.