Below are three takeaways from Sunday's post game press conferences with Brandon Staley, Justin Herbert, Mike Williams and Kyzir White: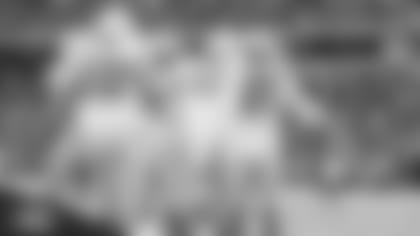 The Chargers went into Cincinnati in need of a win to start off their December slate of games and won so in a big way. The Bolts pulled off the 41-22 victory over the Bengals behind quarterback Justin Herbert's three touchdown passes. The Bolts came to play on defense too, forcing the Bengals to turn the ball over four times, including a 61-yard scoop and score by cornerback Tevaughn Campbell in the fourth quarter.
After the game, Staley talked about what went into the win for the now 7-5 Chargers who stay in the playoff hunt with their performance on Sunday.
"This was a really good team win for us," Staley said. "We came out with a lot of energy, played with a lot of purpose. I think we played the way we are capable of playing. I thought our execution and our energy were fantastic in the game … We finished the game playing our best football as a team … I felt like it was a team win in every aspect."
The Bolts defense put a big emphasis on containing running back Joe Mixon, especially after the Bengals put up 100 plus rushing yards in each of the last two games. The Bolts' effort paid off as they were able to hold Mixon to 54 yards on the day.
After the game, linebacker Kyzir White talked the complete performance the defense put together.
"We knew what we were capable of," White said. "Last week we had a bad taste in our mouth. I feel like we let the running backs get too loose in Denver. We wanted to accept that challenge this week. Joe Mixon is a top five back, and we wanted to come out there and shut them down."
Wide receiver Mike Williams, who had 110 receiving yards on the day, talked about what this means especially at this point in the season.
"It means a lot," Williams said. "Every week we preach about getting to 1-0. Going on the road, we wanted to find a way to win. We'll watch the film and get better from it next week."
The Bolts defense came to life in the turnover category with a performance that was reminiscent of their Week 3 win in Kansas City where they also had four turnovers.
Cornerbacks Michael Davis and Chris Harris Jr. came up with two interceptions, while OLB Uchenna Nwosu forced a strip-sack fumble that he recovered.
In what was arguably the play of the game, Campbell recovered a Mixon fumble and took it to the house for a scoop-and-score touchdown.
Staley talked about why he felt the defense 'won the day' against the Bengals.
"Any time you force a fumble, score on defense and then in the power-red area get an interception, you're going to have a great day," Staley said. "Our defense won the day for us today, because in that second half when it got tight, we had some really big stops. And then we finished the fourth quarter with a 'bagel.' I'm just really proud of our defensive staff and players."
Another big stat of the game was sacking quarterback Joe Burrow six times on the day, something the Bolts haven't done since 2016. With eight strip sacks on the year, the Bolts are tied for the most in the league with the Arizona Cardinals. Nwosu had a big game with two sacks, two quarterback hits, one forced fumble and one fumble recovery.
Staley discussed what went in to Nwosu's big performance.
"Uchenna deserves so much credit," Staley said. "He's really settled into his fundamentals and assignment, and he's really made for us … Uchenna's been really close to kind of bursting in a little bit, and today was one of those bursts. He's just practiced consistently, he's got real toughness, he's versatile, and I'm really proud of the way he's playing for us."
17-0 in the fourth quarter
The Chargers defense was able to shutout the Bengals in the first and fourth quarters.
Staley talked about how crucial it was to get the shutouts, especially in the fourth quarter when the Bengals cut the Bolts' lead to as close as two points.
"I knew that we had what it took to finish that game," Staley said. "When it started to get tight, I think you saw how our defense played. Sometimes when it gets tight, your defense has got to win the day. When you're on the road and it's loud, your defense can get you the momentum back by shutting down a really prolific offense, and that's what happened today."
The Bolts wide receiver group of Keenan Allen, Mike Williams and Jalen Guyton was another key to closing out the win in Cincinnati. Guyton, who had his best game of the season with 90 yards and a touchdown, brought in a 33-yard reception that set up an Austin Ekeler touchdown in the fourth quarter.
Herbert talked about the performance from his wideout group.
"We believe really highly in the guys that we've got out on the field," Herbert said. "You know Mike, Jalen Guyton, they came up with some big catches down the field … It just helps our offense so much to get those big chunks of plays. When those guys come up with the ball, it's a huge momentum shift, so it's awesome to see."
The Chargers return home to SoFi stadium next weekend to take on the New York Giants in Week 14 of the 2021 season.
Bolt Up for 2022!
Secure your 2022 Season Ticket Memberships today! Click here to learn more.