In 2011, Staff Sgt. Rafael Cervantes was on patrol in Afghanistan.  As he was driving, his vehicle hit an improvised explosive device causing Cervantes to experience multiple injuries including compound fractures to his tibia and fibula, a pelvic fracture and traumatic brain injury amongst other ailments.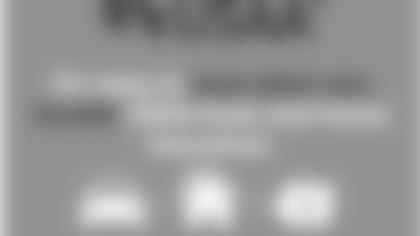 On Tuesday, USAA, the Official Military Appreciation Sponsor, and the Chargers hosted the Purple Heart recipient along with roughly 120 other servicemen and women from MCAS Miramar and MCRD to give them an unforgettable day at the team's training camp.
"I'm from San Diego and a die-hard Chargers fan so being able to get out of work, come out here and watch these guys practice on a Tuesday is a blessing," Cervantes said.
"It's just a great experience for them," added Brian Eaton, Director of Sponsorships at USAA.  "They don't ever get this up close and personal with their heroes.  So we just want to bring a unique experience and something they can really enjoy to take back with them.  At USAA, we serve the military and their families.  We recognize that they're making sacrifices for our country and want to give them a good time and get them a break away from their daily job, which is defending our nation.   We know that they're (also) very passionate about football.  For them to be out here and have this exclusive access and meet some of the game's top players is a great experience for them."
The military members got to meet and chat with Chargers alum Nick Hardwick who answered any questions they had about the team and season.  They then got an opportunity to come onto the field to meet and get autographs from Head Coach Mike McCoy and their favorite Chargers players. 
The day carried significant importance for fullback Chris Swain who in addition to playing football, has an eight-year contract as a Naval Reserve Officer.
"It's awesome," Swain said.  "The things that they do for our country in the past and the present is unbelievable so it's great to have them here…. You can never thank a serviceman enough for what they do for our country."
While the Chargers players were indebted to the local military members for protecting the country, the members also wanted to get their chance to say thanks to the Chargers for giving them a little piece of home while they were stationed or serving.
"I want to meet some of these guys, talk to them and be able to say thanks," Cervantes said.  "Sometimes, I look forward to Sundays just to be able to watch football in the mornings.  I was stationed in Hawaii for a few years, so in order to watch a game out there, you have to wake up at 6:00am so you can watch the games that start at 7:00am…. Being able to see Qualcomm Stadium and say, 'Hey, that's home.'  I missed it.  It was great to be able to watch and connect with home."