The duo of Eagle and Fouts are back in the broadcast booth.
Only this time, it will be Noah Eagle calling games alongside Dan Fouts.
The Chargers announced Thursday that Eagle will team up with Fouts, a Pro Football Hall of Famer, for the Bolts three preseason broadcasts on CBS Los Angeles this August. Another Hall of Famer — LaDainian Tomlinson — is also part of the crew.
Football fans undoubtedly recognize those last names, as Eagle's father, Ian, worked with Fouts for a decade calling NFL games on CBS.
Noah Eagle told Chargers.com that his father couldn't be happier the broadcast duo was formed.
"I know he's just as excited as Dan and I are," Eagle said. "He had such a great 10 years with Dan, just memorable, truly core memories between the two of them.
"To see it come full circle … he and my mom will probably look at each other and say, 'This can't be real life.' There's going to be that type of moment for him as well."
Eagle is excited to carry on the Eagle-Fouts legacy, and said he knows Fouts well from spending plenty of time in the broadcast booth as a youngster.
"That was one of the coolest parts of the job. It was the fact that I get to work with someone I've known since I was probably 12, 13 years old. Dan knew me before I was a man. I was a kid," Eagle said. "So to be around that, see him and my dad's relationship over the years and get to know him on that type of level, it's going to make it easy.
"It's going to make it feel comfortable from the first second, both on and off the air. It's special. Any chance you get to do something like this, it's truly, truly special," Eagle added. "To watch him and my dad for a decade, and now we get to say, 'Alright, let me see if we can do it.' We'll see how it's going to work with me and him … but I think it's going to be a home run just because of the familiarity the two of us have. Knowing him and his family, they're great people. You always want to work with great people."
Both Eagle and Fouts have plenty of broadcasting chops despite their age gap.
The 25-year-old Eagle is the radio voice for the Los Angeles Clippers, a gig he landed at the age of 22. He has also called a pair of Wild Card playoff games on Nickelodeon in recent seasons and has college football broadcasting experience, too.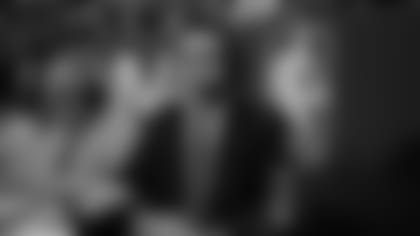 Fouts, 71, has been a mainstay in the broadcast booth for 30-pluys years, and is one of the most recognizable and respected color analysts around.
Eagle expects he and Fouts to form a strong team, all while having fun, too.
"It starts with the beard," Eagle said with a laugh about Fouts. "The beard gives him power. That's the biggest part.
"No, I think it's like osmosis. When you're around it for enough time, and you are curious and have seen it firsthand, you kind of automatically know what to expect," Eagle added. "My dad, all he said was, 'You're going to have a blast.' He's worked with over 100 partners over the course of his career, and Dan is most certainly towards the top of the list because of his preparation and knowledge of the game. But also because of his sense of humor and willingness to have fun. Those are all parts that are important to me as well. We want to have a good time as if we're just watching on the couch with everybody else. That's paramount to success."
Eagle said he is hopeful to become a full-time NFL broadcaster down the road, and noted these preseason games will be a great learning experience for him.
Of course, he can also pick up the phone and get quick advice from his father if he ever needs it.
"No doubt. He has been the best mentor I could ever ask for, because he has all the answers and has gone through it himself," Eagle said. "It's not like he can speculate if he were a marine biologist and say, 'Yeah, that sounds good.'
"He's been through it, so if I ever feel like I need some guidance, he's there," Eagle said. "If we like a call the other one made, we'll say it. And if we don't like something, we'll say that as well. I take everything he says very seriously."
The Chargers will play their first two preseason games at home at SoFi Stadium, hosting the Rams on Aug. 13 and the Cowboys on Aug. 20. The Bolts wrap up preseason play in New Orleans on Aug. 26.
Eagle said the chance to get an early look at the Chargers was also an opportunity he couldn't pass up.
"It starts with the fact they have one of the best quarterbacks in the league in Justin Herbert," Eagle said. "I've been a fan of him since his time at Oregon, I always felt like he had an X-factor.
"Then when you get him in fantasy football, you become even more of a fan because he helps you win a league," Eagle quipped. "This is my guy for the rest of his career.
"And I think Brandon Staley has proven he's one of the best young coaches in the league. He's willing to take risks," Eagle added. "You've got your nucleus, but then bringing in someone like Khalil Mack. He can completely change a defense and control a game from a defensive side. That's rare. There's so much to be excited about."
Time will tell how the Chargers fare in 2022, but the preseason slate will offer a glimpse of the team's potential.
Eagle is fired up to work with Fouts, and to see how the Bolts look early on.
"There's so many pieces to this team that make it a legitimate contender," Eagle said. "You want to be a part of something truly unique and historic.
"I think a lot of people around the football world believe that's exactly what this team has," Eagle added. "An opportunity to be historic, an opportunity to be remembered as one of the greats."
Bolt Up for 2022!
Secure your 2022 Season Ticket Memberships today! Click here to learn more.