While you may be aware Matt Feiler joined the Bolts in free agency, here are some things you may not know about one of the newest members of the Chargers' offensive line.
"It's on loop here." That's what Feiler said of the famous workplace comedy.  He's such a big fan, he announced his wife's pregnancy on Instagram with a reference from the show.
But along with it being a good show comprised of "his humor," he mentioned how he also likes it because he went to college at Bloomsburg University which is located just a little over an hour away from Scranton. The local references are fun Easter eggs for Feiler to find. 
"It's kind of funny just to see how many references they use in it and how accurate some of those references are. They get a bunch of the areas right, a bunch of the Scranton/Wilkes-Barre area. Little things you'd catch in the background (were correct.) There's a Froggy 101 sticker on a car, which is a local radio station to that area. Even certain high schools in the area, they go above and beyond to link it all together." 
While he doesn't have a favorite episode, he said, "I just like watching all the pranks from Jim and reactions from Dwight."
And speaking of being a dad, Feiler became a first-time dad last year to a daughter, Emery.
With Emery set to turn one in about a week, he discussed how crazy of a year it's been.
"This whole year went by pretty fast … It was exciting and a little nerve wracking but she's doing good and growing fast. She actually said 'mama' first but figured out 'dada' is easier to say. She can walk with help and she likes to army crawl, which is her way of getting around."
Feiler may be new to the squad but knowing that he likes to golf, he'll feel at home out here in no time with the number of his teammates who golf as well.
"I try to play golf at least, I'm not too good at it! I hit under 100 one time, I think it was a 98, which is the best I've ever done. I didn't start playing until a couple years ago. I used to go to the driving range, but didn't get my own set of clubs until a couple years ago."
He said his favorite course he's played so far is in Del Mar and is looking forward to playing the plethora of courses out here in Southern California.
Some athletes have very specific pregame rituals they go through before their games. 
"I gotta make sure I the order I put my socks and cleats on is correct."
So what's the order that he's been doing since college?
"I always gotta do my left foot, right foot, socks. Then left foot, right foot, cleats."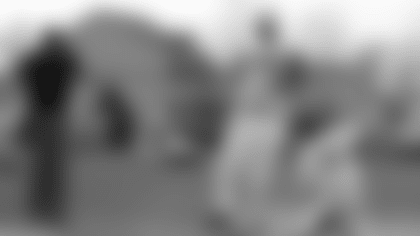 "Before I accepted a scholarship to play football in college, I was looking to play baseball in college."
Feiler started playing baseball when he was a toddler and has a good story on how he got into his first game.
"My older brother's tee-ball team needed a player and my dad was the coach. I just happened to be wearing the same color shirt as their jersey. So he threw me in there and I was holding my own! I played baseball ever since."
He played it from little leagues all through high school and hoped for the scholarship, but he earned more football scholarships despite not starting football until eighth grade.
"I loved playing baseball. It was something that I kind of picked up and stuck with me. My grandpa, he's a big sports guy, and he was always talking to me about baseball. He's one of the main reasons I played baseball growing up."
The Future is Here!
2021 Season Ticket Memberships are starting at only $50 per game. Click here to learn more.