Things are a little hectic in the Tranquill household these days.
Drue and his wife, Jackie, recently welcomed a girl, Mackenzie, a week before Thanksgiving.
That brings the total to three kids (along with Elijah and Anna), but the Chargers linebacker wouldn't have it any other way.
"There are so many parts that I enjoy," Tranquill said about fatherhood. "Really just seeing the wonder in your kids. Seeing yourself in your kids and the way that expresses itself on a day-to-day basis.
"It's just so cool seeing your kids interact with each other, love each other," Tranquill added. "Just getting to see them grow up is special."
The 27-year-old Tranquill laughed when asked how he balances having three kids while also being a full-time starter for the first time in his NFL career.
"It's challenging having three [kids] 3 [years] and under," Tranquill said with a smile. "My wife is an absolute champion, and I don't know how I would do it without her.
"But we love it. I grew up in a big family and she grew up in a big family, so it's fun," Tranquill added. "It's a journey."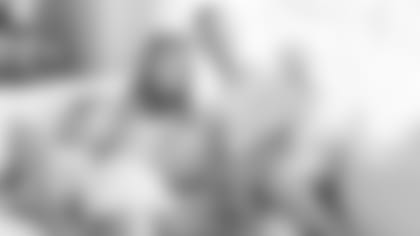 Tranquill's final word in that quote is an ironic one. It's also one that he applies to his daily life.
Tranquill's favorite book is "Enjoy the Ride," which stresses relishing the pursuit of something rather than the final product.
Tranquill admits that mindset isn't easy, as human tendency is centered around what tomorrow looks like.
"A lot of people have destination sickness, where we're always looking for the end," Tranquill said. "We lose sight of the journey and the joy that comes with just being on the road toward where we're going.
"My journey, like many other people, is characterized by ups and downs," Tranquill continued. "That's how life goes. There are just ups and downs, but you have to have the right people in your corner.
"Really, we can't control what happens tomorrow or what's going to happen Sunday versus the Dolphins," Tranquill added. "But I can control my attitude and how I go about things every day."
Tranquill applies his mindset through the good times in his life, such as the recent birth of his daughter. And through the tough times, too, such as the loss of his beloved grandfather in December of 2021.
And he also applies his mentality to his career as a football player, too.
Tranquill wasn't a flashy first-round pick, instead getting selected in the fourth round by the Bolts in the 2019 NFL Draft.
This was after a strong career at Notre Dame that also saw a position change, as Tranquill spent the final season with the Irish as a linebacker after initially playing safety.
Tranquill primarily played special teams as a rookie, but his 2020 season was essentially over before it began when he broke his ankle on the fifth snap of the season.
He returned and was part of a linebacker rotation a year ago, and is now a dozen games into a season where he's started every one of them.
Add it all up, and Tranquill is thankful for the path he's forged for himself in the NFL.
"This is kind of my first year as a full-time NFL starter," Tranquill said. "I feel like I'm constantly getting better, getting more experience at the position and learning the position.
"There's always things to improve upon with my game," Tranquill said. "But I think my game is on the up and up."
He said the success he's found in his fourth season has been rooted in the same daily approach.
"We talk about each week having a life of its own, and each week is really a micro journey inside of a longer journey that is the NFL season," Tranquill said. "I enjoy the week leading up to Sunday, and Sunday is in mind, but I have to handle today."
And there's no doubt Tranquill has had a successful season.
Only three defensive players across the league have recorded 100-plus tackles to go along with 3.0 sacks, five tackles for loss and at least one interception.
Tranquill is part of that group, along with teammate Derwin James, Jr., and Ravens linebacker Roquan Smith.
Could Tranquill's first Pro Bowl honor be on the horizon?
"You think about it because it's a cool accolade and certainly helps your opportunity to be here next year if we're talking about being a free agent," Tranquill said. "I certainly see myself as one of the best linebackers in the NFL, but it'd be an honor to represent this club in the Pro Bowl."
Time will tell if Tranquill will get that accolade.
But what the linebacker knows for sure is that even if it doesn't happen, he's certainly enjoying that journey that he's on.
Bolt Up for 2023!
Secure your 2023 Season Ticket Memberships today! Click here to learn more.