Imagine being a kid sitting in the stands before kickoff watching your favorite players warm up.  Now imagine one of those players coming over and picking you out of those stands and walking you on the field.
That dream becomes a reality before Chargers games as Chris McCain searches for kids to take on special walks to remember.
"I've always been the type to interact with fans," McCain said. "I'm just a people person.  I was in the car one day talking to my dad and figuring out ways I could get give back, or what I could do to help other people.  He knows my weakness is kids; I love kids.  He said to see if I could bring a kid down and walk them around the field."
McCain has been doing this since 2014 when he was a member of the Miami Dolphins.  He partakes in these random acts of kindness because he never went to an NFL game, let alone met his favorite athlete when he was younger.  Now that he's in a position to give back, he wants to impact as many kids as he can so they don't miss out like he did growing up.
"Kids are our future, and because I wasn't able to meet my favorite athletes, I wanted to find a way to step out and do something positive for the fans."
McCain usually walks with two kids per game.  Sometimes he'll take requests on social media, but for every kid he prearranges, he makes sure to find a random one in the stands.  If the kid is in a jersey, McCain will try to seek that kid's favorite player out for an autograph.
The reaction he gets from parents and kids alike is priceless.
"It's unexpected (and) that's the whole point.  The kid I walked last week, I saw a kid sitting in the stands way back with his dad so I ran and grabbed him.  He wasn't expecting it at all!  He had Keenan's jersey on….  I took him up to Keenan and he got an autograph.  He was just shook, like he didn't know how to react, he was just excited.  His parents loved it."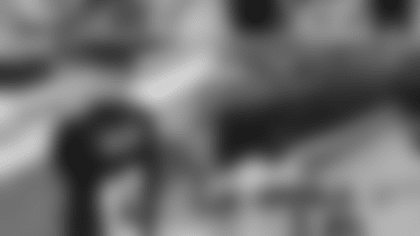 McCain knows he is blessed, but it took overcoming challenges to get to where he is today.  He makes a point to have detailed conversations about school with the kids he walks.  McCain admits school never came easy to him, but it took reflecting on getting kicked off the Cal football team to realize the importance of education.
"I had my scholarships taken away, and I couldn't afford it and was really into football.  I'm blessed that I got out of that situation and I'm here, but school is very important.  I'm making sure that's the first thing we talk about. Just going from my past experiences because I never took school seriously.  It was too late before I really started understanding how serious it was.  I always ask what they're doing and what their grades are like…. I just try to push them, (because) if they don't have the grades, they won't be eligible to play football."
McCain admits he'll keep walking kids out on the field until the day he retires because he gets just as much joy out of what he does as the kids do.
"It makes me feel great just being able to give back.  I was that kid who never went to a game (but) always wanted to meet a player.  You never know which kid you walk may have that same mindset.  (That this is) too good to be true.  You're surprising them and it's something that they'll remember for the rest of their lives…. It's all bigger than football.  We have to find a way to give back."