The Bolts entire 2023 draft class is now under contract.
Outside linebacker Tuli Tuipulotu became the final member of the seven-man group to sign his rookie deal, which he did Monday.
Tuipulotu then reflected on what his first two months in the NFL have been like.
"It's been great, really fun," Tuipulotu said. "It was a really cool thing to have the whole defense here during [the offseason program].
"It was a big part of creating relationships between everybody," Tuipulotu added. "I've just been having fun and enjoying it."
Tuipulotu's welcome to the NFL hasn't been overwhelming, even as the second-round pick is still just 20 years old.
But something he referenced above — creating strong relationships with defensive teammates — was a clear objective of his early on.
And that goal began and ended with getting to know Joey Bosa and Khalil Mack.
"They're two different people, for sure," Tuipulotu said.
He later added: "Every day I'm here, I'm blessed to be here and be able to learn from them."
What exactly has Tuipulotu learned from the pair of elite edge rushers?
Tuipulotu began with Bosa, a four-time Pro Bowler and former Defensive Rookie of the Year.
"I learned how detailed he is to a T. Everything he does is specific," Tuipulotu said. "After a lift, I'll come into a meeting room and he's in there watching film.
"He knows all of the little details we have to focus on and I think it's pretty cool what he does [on a daily basis]," Tuipulotu added.
Mack, meanwhile, has impressed Tuipulotu with the tenacity and constant work ethic that made him a three-time First-Team All-Pro and seven-time Pro Bowler.
"In the weight room, Khalil is always bringing the juice," Tuipulotu said. "Always trying to compete when we're lifting and it's the same thing on the field.
"He'll run [sprints] with the skill [players] sometimes and he's always trying to race the other edge dudes," Tuipulotu added. "Hard-working, for sure, and you see that every day."
Mack gave his own assessment of Tuipulotu when asked about him earlier this offseason.
"Tuli is a quiet dude. I didn't realize that he was 20 years old," Mack said with a chuckle. "It's strange being in this position, being so much older than these guys.
"He has a quiet demeanor, but he's a smart dude. He learns fast, has fast hands," Mack added. "It's going to be fun playing with all of these guys, especially the young dudes."
Tuipulotu, a Southern California native, didn't have to travel far to join the Bolts after a standout college career at USC.
And even though he was one of the youngest players drafted in April, Tuipulotu has made an early impression on Chargers outside linebackers coach Giff Smith.
"He's been well-coached," Smith said. "There's some little things in the league that are a little bit different, but he'll pick up on it quickly and I think he'll be a productive player that's going to be a rotational guy that's going to help us win a lot of games this year."
Tuipulotu marveled at how welcoming and knowledgeable Smith has been over the past few months.
"He's a great coach, just his personality and how cool he is and how he's able to connect with different people and different personalities," Tuipulotu said.
Tuipulotu was one of college football's best defenders in 2022, leading the nation in sacks (13.5) and finishing second in tackles for loss with 22.
Smith noted that Tuipulotu comes in with a strong baseline at the NFL level, something not all rookies have.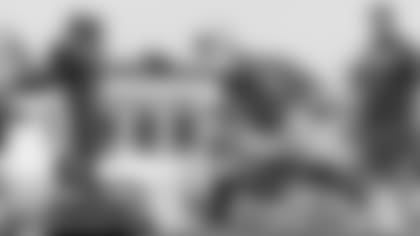 Tuipulotu said he's excited to watch the progression he makes as a rookie.
"It's funny because the only year I showed pass rush ability was my last year," Tuipulotu said with a laugh. "But I've learned some details and Giff is going to have me refining everything so I'm excited."
Bosa and Mack will have a hand in that, too, and it could mean Tuipulotu is slotted as the Chargers third edge rusher, a role Tuipulotu is expected to compete for in training camp.
Not that Tuipulotu's mind has gone there just yet. Right now he's focused on the little details and continuing to learn from a pair of veterans stars in his position room.
"To be honest, I'm just thinking about going out there and having fun and doing my job," Tuipulotu said. "Nothing too crazy. I'm not going to do anything out of the ordinary.
"Just show up and work," Tuipulotu added. "I'm excited for the opportunity and to showcase my ability."
Bolt Up!
Secure your 2023 Season Ticket Memberships today! Click here to learn more.