In the days after Kellen Moore was hired in late January, the Chargers Offensive Coordinator set out to learn and evaluate the dozens of new faces on the Bolts roster.
And he began building relationships with the 20 or so fellow coaches on Brandon Staley's staff.
Players were away from the building, so Moore spent his time popping in and out of offices and meeting rooms on the second floor of Hoag Performance Center.
Moore soon had a realization: There are a lot of former quarterbacks on the coaching staff.
"I quickly became aware of it," Moore said with a smile. "Brandon has talked a lot about it in the sense that when he was with the Rams up there, they had a lot of quarterbacks on their staff.
"He kind of half-joked when I came here," Moore recalled. "He said, 'We like quarterbacks.' They like people who see it from that perspective, and we've certainly got a lot in here. It's been fun."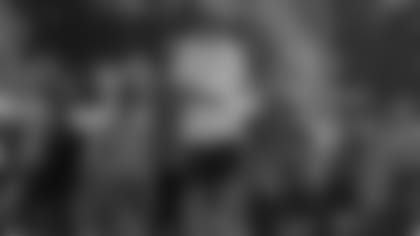 Moore is one of seven coaches on the Chargers staff who played quarterback in college. Not all of them played on the Division I stage, but they were all good enough to play some level after high school.
Staley, one of the seven in the group, smiled wide when asked if having so many former college quarterbacks on staff was by design.
"I don't think it's a coincidence," said Staley, who played at Dayton and Mercyhurst College. "It was the same way when I was with the Rams [in 2020], there were a bunch of quarterbacks [on staff]. I think that position is just naturally attracted to coaching.
"Some of the best coaches I know are former quarterbacks, and I just think it's about the way you think, the level of football you've been exposed to," Staley continued. "When you play that position, you're responsible for all 22 [players] on the field.
"It's one of the few positions like that in all of sports, and it naturally leads guys to want to coach," Staley added. "I love having that around our team because it multiplies the impact of that position."
If you're looking for the place where those former college signal callers often congregate, look no further than, duh, the Chargers quarterback room.
Moore is in there, of course. He was a bonafide sensation at Boise State from 2008 to 2011 and helped vault the Broncos on the national stage by going 50-3 over four seasons, becoming the first quarterback in FBS history to win 50 games in his career.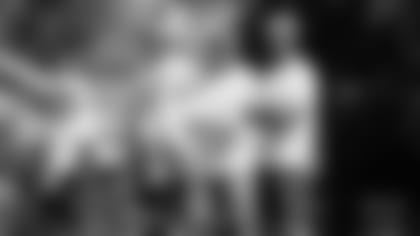 Chargers quarterbacks coach Doug Nussmeier leads the room, too. He starred at Idaho and won the 1993 Walter Payton Award, which is the FCS version of the Heisman Trophy.
Tom Arth, the Chargers Passing Game Specialist, is also a familiar figure in the room, as is Chandler Whitmer, an Offensive Quality Control coach on staff.
Arth played quarterback at John Carroll University, a Division III school he was later the head coach at while employing Staley as his defensive coordinator.
Whitmer, meanwhile, played at Connecticut after playing junior college ball ... where he twice got the best of Staley.
"I ended up going to Butler Community College in Kansas and that was in 2011 when Brandon was the defensive coordinator at Hutchinson Community College," Whitmer said. "Both were in the same conference ... played them twice, beat them twice.
"I give him a hard time, not too many people know about it," Whitmer added. "But anyways, it's kind of funny how the football world works, it's a small network."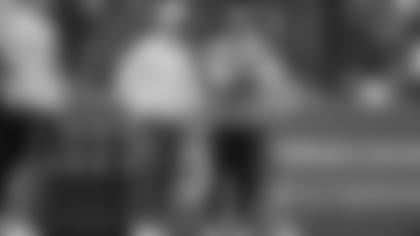 That quartet will be a sounding board, support group and anything else Justin Herbert needs this season as he endures the usual trials and tribulations of being an NFL quarterback.
"Everyone plays quarterback in a different type of offense, so having all of those opinions — the different experiences those guys have had — it's super helpful," Herbert said. "Whether it's Pat White or Kellen Moore or Coach Nussmeier, they've all got different strengths and weaknesses, so to be able to listen to all of those guys is super helpful."
Oh yes, Pat White. You know, one of the most dynamic players in college football history?
White spent his time with the receivers in 2022, but Staley said during training camp that the West Virginia legend is helping multiple position groups in his role as an Offensive Quality Control coach.
"This guy was a former Heisman Trophy candidate, he played in the National Football League," Staley said of White. "Any time you can be around someone who had that type of career, it's great for your program.
"He can also be a bridge from the quarterbacks to the receivers, and the receivers to the quarterbacks," Staley added. "That's kind of what his role is now, he's involved in both of those rooms. He's been awesome for our staff."
If you include the expertise of Staley and White, that makes six former college quarterbacks that Herbert can lean on and ask questions to.
Staley said that is by design so that Herbert can jog onto the field with a full arsenal and also a clear mind.
"They understand the routine and the rhythm and the process of a quarterback, and how important it is to set it up for him," Staley said of the coaches in the quarterback room. "We want it to where Justin can just go attack. That position understands how sacred that is because it's a very big responsibility.
"We don't want an overcrowded quarterback room, but just the right amount of people so that our quarterbacks can operate at a premium level," Staley added. "There's a lot of work people don't see behind the scenes that needs to be done in order for guys to play their best: projects, studying opponents, studying ourselves, breaking down drills. It's just a lot of work that needs to be done to set the table for them to attack and there's no better person to do that than a former quarterback."
Moore said he's enjoyed the back and forth that takes place in that room, conversations that also include Easton Stick and Max Duggan.
"It's just a really big and open collaborative room," Moore said. "You want to utilize all of these different guys' experience, whether it was some of us who were able to play for years or guys that have coached for years or guys that have been here for years.
"Stick was here before Justin so there's things he can teach us," Moore added. "Max can teach us some stuff as we install, maybe it's, 'Hey, I've ran this play before.' That's the biggest part, let's just utilize everyone in the room."
Now six months into his time with Moore, Herbert said the chance to work with the 35-year-old has allowed him to dive a little deeper into the chapters of the Chargers offense.
The two almost speak the same language now, especially when it comes to the fact that both have stood in an NFL pocket and prepped for the barrage of defenders heading their way.
"With Kellen, he has a great feel for the game," Herbert said. "He understands the protection and how little time quarterbacks really have in being able to get the ball out quick.
"Just understanding exactly what you need to work with with the offensive line," Herbert added. "I think he's done a great job communicating with the O-line so that we have a protection plan that we want and something we feel comfortable with. Kellen has a great feel for that."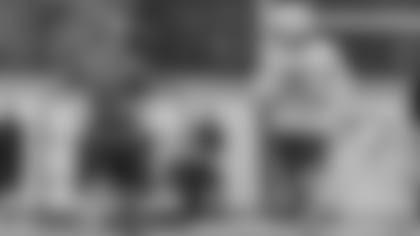 Those fascinating conversations take place when players have gone home, too.
It doesn't take much to imagine the dialogue between Staley, Moore, Nussmeier, Arth, White and Whitmer in a meeting room.
"You're just able to have that healthy discussion and that open platform to share your experiences," Staley said. "Guys come from different systems, which brings different viewpoints, and then you tie that into how we believe in doing things philosophically. It's just going to add a lot of things to your program.
"We want that platform for coaches to feel free to really express themselves," Staley added. "It's like a think tank. You want a think tank of ideas so that you're always at the cutting edge."
And if those half-dozen coaches want one of the rarer viewpoints on staff, perhaps they walk over into Jay Rodgers' office to talk ball.
Rodgers is now in his second season as the Defensive Run Game Coordinator/Defensive Line Coach for the Bolts and has been with the Chargers since Staley arrived in 2021.
But Rodgers, one of the top D-line coaches in the league, appeared in 29 games for Indiana in the mid-1990s as a quarterback.
Rodgers was asked this summer if he was a good quarterback for the Hoosiers.
"If you want to look at it in terms of statistics, no," Rodgers said with a chuckle. "If you want to look at it in terms of wins and losses, no.
"I was probably a better high school quarterback than I was a college quarterback," Rodgers added.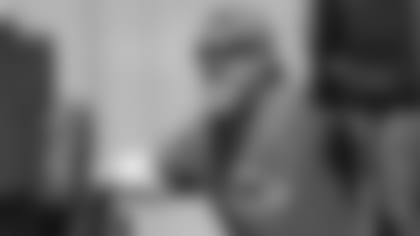 Now a valuable member of the Bolts staff, Rodgers has carved out a reputation as one of the top position coaches in the league. (Rodgers won the 2018 John Teerlinck Award as the best defensive line coach in the NFL while with the Bears).
And he credits his time as a college quarterback for helping him now view football on a big-picture scale.
"I think you always view the game from the eyes of what you played. I still see the game a little bit more globally than some coaches in my position," Rodgers said. "They're so used to seeing defensive lines and offensive lines, that sometimes I can see outside the box through my own experiences and having to do that as a player.
"And it also helps the learning process because I can maybe teach it a different way and with a different perspective by having eyes open rather than having blinders on," Rodgers continued. "My feedback from players I've coached is that the more they understand the game of football, the more aggressive I can play.
"Those little tips and tricks, I hope, can help each guy lengthen their football career," Rodgers added.
If there's anyone who knows Rodgers path from college quarterback to defensive NFL coach, it's Staley, who's own journey is well known.
"When you can find those offensive players that become defensive coaches, that's kind of my path but I think it's a unique path and a wise one," Staley said.
Naturally, Staley jumped at the chance to add Rodgers to his staff when he was hired three years ago.
"He's got an awesome background. He was with some great defensive coaches in Denver and then we joined up in Chicago with Vic [Fangio]," Staley said. "His background is big because he understands protections, understands formations. There's a lot of D-line guys that don't have his background and he can help his guys find some tips that allow them to play fast.
"We're always trying to incorporate the quarterback position in how we coach defense," Staley added. "It doesn't matter if you're with the D-line, linebacker or secondary player, they have to understand how that position is being coached for them to do their best."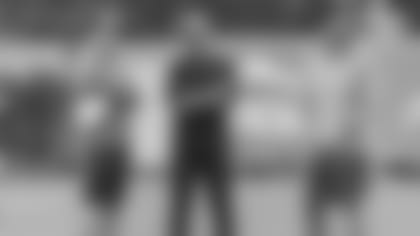 There are 23 coaches who reside on the second floor of the Bolts practice facility. Nearly one-third of them played quarterback in college.
And this group of seven doesn't even include Tommy Donatell, the Chargers Defensive Passing Game Coordinator/Secondary Coach who went to Iowa as a quarterback but quickly shifted to safety and was never under center in a game for the Hawkeyes.
Either way, having seven former college quarterbacks on staff is something Staley believes helps make himself, the staff and ultimately the Chargers better in every aspect.
Arth reflected this summer on how being a former quarterback helps him see and approach the game.
"I think from a mindset standpoint, you have to be a really competitive person," said Arth, who joined the Colts out of college and spent time as Peyton Manning's backup. "You have to be someone who is willing to serve and bring the best out of people around you.
"But you also have to have a big-picture outlook on the game itself and understand what every situation is and understand what we're really trying to get accomplished with each play," Arth continued. "Those are some of the things I enjoy most about the game. I do think playing quarterback helped me become a good coach and there's certainly a lot that I've learned coaching that I wish I knew when I was playing.
"But with the way Brandon has created the culture here, we all have the opportunity to learn the game from each other and become the best we can be," Arth added. "In turn, that helps our players become the best that they can be."
Away from the field, Staley and the Bolts have invested in plenty of quarterback brain power to help Herbert continue to thrive as he enters his fourth season in the league.
Let's just say that those former quarterbacks can still spin it and love a good quarterback competition from time to time.
"They're certainly alive a little bit," Moore said with a smile.
Bolt Up!
Secure your 2023 Season Ticket Memberships today! Click here to learn more.