Chargers.com is chatting 1-on-1 with Bolts players throughout the season. Up next? Cameron Dicker.
Great to see you, Cam. We'll start with the obvious news of you winning the kicking battle. What was your reaction or emotions around that?
"I'm excited. Just excited for this opportunity and I think it's going to be a fun year. Excited to be out here with these guys and I'm pumped I was the guy they decided to go with."
How did you approach the offseason competition? Take me through your mindset from spring practices to training camp to now.
"All I could control what was I was doing. I wanted to do everything I could to give myself an opportunity to play. I didn't realize pay attention to anything else going on. Just focus on what I'm doing. And if I'm doing what I need to do, then I trust and believe in myself enough to be the guy."
How do you think you performed these past few months?
"Good. I think I had a pretty good camp but Dustin [Hopkins] and I both had a really good camp. I guess the decision was something the team felt. Luckily I don't have to make the decision. I'm just a guy the decision gets made on. It was just controlling what I can and having fun with it."
You mentioned Dustin. He was traded to Cleveland, but what was your relationship like these past 10 months?
"He's an awesome dude, love him. He was definitely a role model for me on how to be a teammate and leader on this team. But also the way he handled himself off the field and to live a Godly life. It was a really cool experience to be with him for almost a year. A cool experience to have someone like that mentor and help me any way he could. Even through the battle, we had a genuine relationship and he wanted to help me."
We'll get deep into kicking here. What makes a good kicker? Is it talent? The mental aspect? What do you think?
"Talent, obviously. I think everyone in the NFL is talented. There's some guys that are probably more talented than me. But mentally it's not the same. So I think mentality has a lot to do with it, just being able to move onto the next rep because at some point everybody is going to miss a kick. It's not letting that affect you and being able to roll with the punches and keep going."
The past year or so has been a whirlwind for you with two teams and plenty of big moments. Have you reflected on that craziness at all?
"Yeah, I was looking at it when the season ended [laughs]. In the offseason I realized how crazy of a year it was and how much of a blessing it kind of was also to go through that in the first year and then now be at a spot where it's like, 'OK, we're starting again. Let's see what we can do.'"
You infamously missed out on a Carrie Underwood concert last year when you signed with the Chargers mid-season. She then invited you to a show did you see that?
"I did. That was awesome but I wasn't able to make one this offseason. A lot of them were in Vegas and I wasn't able to make it. Not a big Vegas guy. Still hoping though. If there's one in LA then that would be awesome. Maybe next offseason?"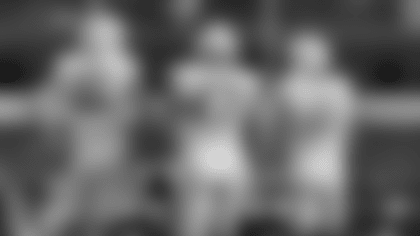 You're back again with JK Scott and Josh Harris. What's the vibe like between you three?
"JK is such a relaxed guy and such a funny, goofy dude. The way he and Josh handle themselves, they've both have been doing this now for awhile. It's cool to have those kind of guys in there talking to be and being able to work through things. They're just great guys that help me in the building and also outside. Just role models as parents, too."
Josh is 11 years older than you! That's quite the gap.
"When he first started playing in the NFL, it was my first year living in the United States. Which is kind of crazy. I forget he's an old guy. But he's such a fun guy, too."
On that same topic, you were born in Hong Kong and lived in Shanghai until you were 11. How did that shape your life?
"Just a completely different cultural experience. It opens your eyes to a lot of different things. I'm happy with new cultures and interested in seeing that kind of stuff. Seeing how other people live, what other foods are, all that. It's made moving easier as well because I don't really care. It's like, 'Sweet, let's go do this.' Everything feels like an adventure instead of having just been in one place my whole life."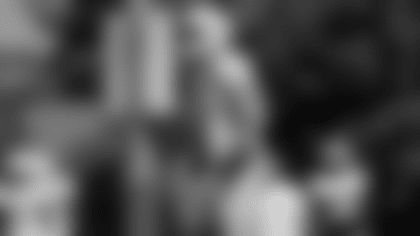 Did you get a chance to travel a lot this offseason then?
"Traveled a lot. Went to Europe in the first part of the offseason. And then this summer I went to Australia and New Zealand and Hawaii."
I know you're a big soccer guy. Did you catch a game around the world?
"Yes! I got to go to a Champions League game, Real Madrid vs. Liverpool FC. Liverpool is my favorite team so it was awesome. Flew in and the day I landed I took the train to Liverpool and got there by the game."
That's incredible. Were you able to see a World Cup game in New Zealand or Australia?
"No, I got there just before so they were setting up for it."
Back to football for a minute. What is it like working with Chargers Special Teams Coordinator Ryan Ficken?
"He's awesome. Fick has been great and really helped me a lot. Him and [Chargers assistant special teams coach Chris] Gould. Film or whatever it is, they're always in there with me helping me with little mental cues and talking about it all. And with Fick, it's nice to have someone who trusts you and talk to you about your body and how you're feeling and the way you do things. We communicate and have that open voice and it's just really cool."
Final question for you. We're 11 days away from Week 1. What are your expectations for the 2023 season?
"I'm excited and it's a cool feeling to be in this spot. I'm proud to be here and I worked hard to get here. It's a blessing to be in this situation. Just excited more so than anything else. Just ready to go out there and have some fun with the guys. I think our whole team is ready to go out there and prove we can do it."
Bolt Up!
Secure your 2023 Season Ticket Memberships today! Click here to learn more.