The Bolts spent Tuesday giving back in a big way.
The Chargers Impact Fund kicked off its newly revamped First Downs for First Books Program at the Boys and Girls Club of Metro Los Angeles Watts/Willowbrook Clubhouse. The event marked the beginning of the summer reading program with Boys & Girls Clubs and the Rhymes with Reason program.
A couple of Bolts players made a surprise appearance and helped start a number of activities for the students throughout the day.
Star safety Derwin James, Jr., and cornerback Michael Davis worked with the students on their literacy program, spending the day interacting and hoping to make an impact on their lives.
"Seeing their smiles, seeing them able to say, 'Hey, I met one of my favorite players'," James said. "To be able to spend a day with them, color and draw and just talk about everything that's going on in their life and the future things, to be able to do that it's a lot of fun."
The day started off with the Bolts Book Club session, where the group read and spent the rest of the time coloring, with both James and Davis going around and talking to students.
"This is important to the Chargers Impact Fund because we are providing the necessary needs for these students through books and different learning abilities to really go above and beyond outside of the classroom," Chargers Impact Fund manager Taylor Chavez said.
Chavez added: "The kids were super excited to see Derwin and Mikey, just their reactions and getting to interact with a professional football player is not something you get to see everyday for these kids, so having that ability to have them out means a lot to them."
The day then moved into the Rhymes with Reason program session, which helps students learn important English words by showcasing them through music lyrics. Students were introduced to the program and then put what they learned into action.
Rhymes with Reason CEO and founder Austin Martin hopes that the day's activities and the interactions with professional athletes like James and Davis helped deliver an unforgettable and impactful experience.
"I heard some students say that this was one of their best days that they've had in a while and that's exactly the desired impact," Martin said. "To deliver an experience that they'll never forget and also while doing that, having them learn."
"Just delivering an experience to them they will never forget is really important," Martin later added. "I think the best part about it all is that it came in the context of them learning."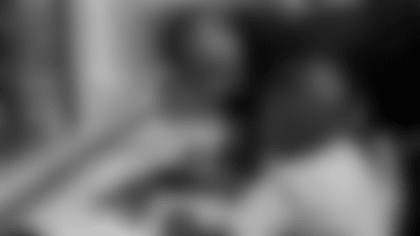 Kim Washington, the Vice President of Resource Development of the Boys & Girls Clubs of Metro Los Angeles, believes having athletes like James and Davis on hand is huge for events like these as they can help inspire younger generations.
"The impact of having players here, a lot of our kids don't believe that players and people of certain levels care about these communities, and this is a huge gamechanger," Washington said. "Every time players come to our club, they provide and inspire hope for our kids and they lead the way.
"These kids they find it impactful for them to be a part of any program where a player is there, shows up and number two, actually works with them and this was a great example of that today," Washington added.
The event meant a lot to James as he looked back at his own experiences and hopes to help make a positive impact on the students.
"I feel like people should always use their influence in a positive way," James said. "Get out and help kids and help the future of the world. To come out and just spend some time with them is no other feeling like it."
"It means a lot to me," James later added. "I grew up going to the Boys and Girls Club, meeting a lot of great people over the time, learning about sports, playing different activities at the Boys and Girls Club. I just feel like it helped me get to where I am today."
Bolt Up!
Secure your 2023 Season Ticket Memberships today! Click here to learn more.