---
---
JoJo Wooden wears many hats, and he's one of the most important members of the Bolts front office.
Wooden, the Chargers Director of Player Personnel, has been with the team since 2013. Before coming to the West Coast, he spent more than a decade in various scouting roles with the New York Jets.
I recently sat down with Wooden in advance of the 2023 NFL Scouting Combine to cover a variety of topics, including what the Bolts are looking to get accomplished in Indianapolis, balancing his responsibilities and his early view of the 2023 draft class.
---
---
JoJo, I appreciate your time during such a busy part of the calendar year. For fans who don't know much about you, what all encompasses your role as the Director of Player Personnel?
"Basically I oversee both our college and our pro scouting departments, so I work with Kevin Kelly, who's our college director, and [Louis Clark] and [Dennis Abraham], who do our pro department. Basically, I oversee both departments, so that includes the draft and everything we do with that. And also in terms of pro free agency, any kind of pro acquisitions or anything like that. It's kind of like the best of both worlds in terms of having your hand in the mix of everything in putting the team together."
How do you manage to well, manage, all of those responsibilities?
"First, it helps that you have really good directors like Lou, Kevin and Dennis. That makes my job easy, so that helps off the start. I just think being organized and using your time wisely because you are kind of juggling both worlds in the middle of the season. Obviously, during the season, we're really locked in with the season itself in terms of our opponents and things of that nature, player availability, who's on a practice squad, who's on the street, being up to speed on who those guys are. But then the other half of it is the beginning process of the draft as well, so there are college guys out there playing games and things of that nature. So, kind of try to split my week up a little bit in terms of watching tape and things like that. But usually towards the tail end of it, usually I'm on the road going up to see college games and then tying that in whether where the team is going to be home or on the road, and going to our games as well."
You've been here a decade now. Have your 10 years in powder blue flown by?
"Yeah, especially living in two different places, I think that broke it up a little bit. Coming up here [to Los Angeles] was really like starting over again, so it was just like being in a new place not just for me, but for everyone the organization. I have a wife and two kids, so schooling for them, so it really was like a starting all over type deal. When we left New York with the Jets to come to San Diego, that was like one move. Then we were down there for five years and now here. It was kind of that little going from down there to here, that kind of started the clock again in our heads, so had to kind of get reestablished in a new community, new area, so I think that helped. But, just look at being in one place for this long, which is kind of rare in this business, I guess it makes me feel like I'm doing something right, so you have that side of it. But again, it's fun to come to a place where you got a lot of support from the top down, so it makes your job easy and it's a lot of fun being here. I love the people I work with and it's nice to come to the office. We have a great relationship, we get along super well and we have a lot of fun."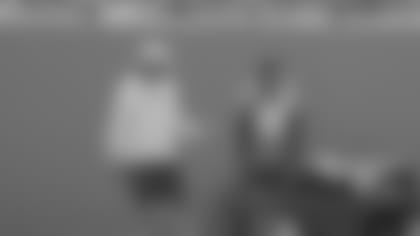 This is a slow time in the NFL calendar but a busy time of year for you. What excites you about this time of the year?
"It's just another phase of the entire process. We've kind of known about these players for some case two years, three years, and now it's getting to the point where they're draft eligible. So we've watched tape, watched games of them in the fall. We've seen them at All-Star games now and we've had a chance to speak to them at All-Star games, so that phase is over with. Now, we're into this part of it, is when we actually get to see kind of a little bit more hands on with these players in terms of our interview process with them. Our coaches are involved now, so there's another aspect of it. You got the medical part of it as well. So, it's just nice where now everything is starting to come together a little bit. Going out to Indy, the workouts are great to watch guys move around and things like that. We just finished up our February meetings here so that was fine and a lot of fun to initially kind of go through our board and really kind of get a sense of what our scouts feel about guys. Even though during the season I got a really good sense of that, just because I communicate with those guys a lot as well. It's nice to be able to go in a room and everyone kind of gives their own thoughts, and you get to hear difference in opinions. I can't see everybody, so I'm relying on scouts and it's nice to kind of hear what they have to say about the guy. Which makes me want to go, 'Okay, listen I get that guy on the list, I need to see him.' Indianapolis, this is like my 25th combine, so it's nice that they've kind of changed the format up a little bit. But, I think the biggest part is just watching what they do on the field. Our coaches are involved, so it's nice to start to get the coaches' perspective on how they kind of see a guy. It's nice that you've got knowledge of the kid and relay that information to them to help them along the way as well."
What is the Chargers main goal to get accomplished at the Combine?
"Really for us, it's really like the film stuff is great, but it's really the medical, the psychological part of it that they go through, that's really important to us. Like I said, we've watched these guys play for a couple years, so it's great for the coaches ... this is really their first introduction to players. They've had a chance to watch a good amount of these guys as well at their position, but then they get to watch them on the field move around. This is kind of like really the first true exposure to them in person and for all of us, we've kind of already seen him if it's at a practice, All-Star game, so we've already kind of seen this part of as well. For myself, it's just nice to, for one, we get to interview 45 guys, so get a little feel for them from a personality standpoint, how they think and how much football did he know. I enjoy that part of it in the meetings that we have with them. Really, watching them kind of move around on the field, sometimes you may see a guy and like on tape you're like, 'Wow he's fast. And then he's not and you thought he was fast, whatever the case may be. So, it's just nice to kind of watch them out there, watch them compete, watch them interact with one another as well, because all of that stuff is just gathering of information is really what we're there for."
It's late February. Where is the organization at in the draft process?
"Yes, so our big meeting is in February. We're here for a week, our scouts come in and really go over the board by position from top to bottom. We'll talk about every player, everybody who had an evaluation on them, say their piece on a guy. Really for me, I've seen a lot of them, so I'll inject as well my thoughts on it. But really, this is the time for the scouts. I want to hear what the scouts want to say, [General Manager] Tom [Telesco] wants to hear what the scouts have to say. They know these guys better than anyone because they're area scouts, these guys are in their area. These guys have been watching these kids for a long time, so they really do deep dives on these guys and the personal character, the football character. As a player, not just what they've done this past season but what they've done the year before and the year before that. For them it's, 'Here's your chance, this is a player in your area, how do you feel about him? Do you want him to be a Charger? What's your vision for this guy when he gets here?' So, it's really more for them. For me, it's just kind of taking it all in and adding my two or three cents in there."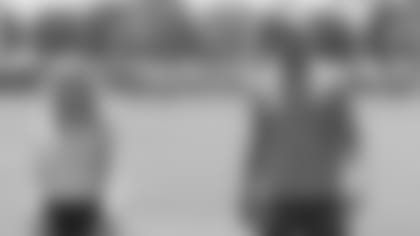 You have 25 years of NFL front office experience. How has the scouting process changed in that time?
"Well, as time goes everything has evolved. I think when we went through the COVID period, that kind of made it change even more. Actually I think it was almost for the better in terms of how we do things now. A lot of it is like between using Zoom now with the players, with our staff. You do have some of that where you'd like to be together, but sometimes it's easier when guys don't have to go on planes and go places. Like for our coaches, they can sit in their office and get so much done interacting with players if they can't go out and see them on the road. So, that aspect has really helped from a film standpoint, film comes in so much faster than before in the way it's broken up. Before, you had to basically watch a game, the whole game, from beginning to end to see one receiver. Now, the way it comes in, stuff is so much broken down in terms of his catches, targets, drops if that may be the case, him blocking, his third-down receptions. It's so much easier to look at it that way where you don't have to sit and just watch a game. With an offensive lineman, how many pressures has this guy given up, his pressure rate is this. Bam, here are his plays. You still watch the tape, and that's never going to change, but like you can just look at it in so many different ways now and I think that's really cool. To be able to do that, tie in the analytics department with the film stuff, it really paints a really big picture and a bright picture for you."
You mentioned analytics. How much does that factor into this whole process?
"It's a piece of the pie. It's not the end-all, be-all. But sometimes it just reaffirms what you may have seen on tape.For example, let's you're not sure about a guy's hands. Well, the analytics tell me his drop rate isn't where it needs to be. Maybe there's something to it. Or maybe you wonder if a guy can't block speed rushers? What's his pressure rate? You see the information for yourself and say, 'OK, that's good to know.' You put it in your memory bank."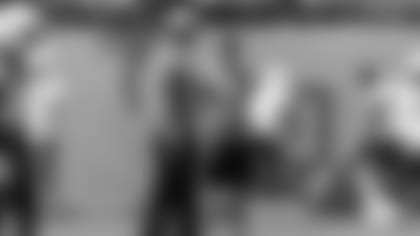 You and Tom both arrived here in 2013. What's your relationship like with him now?
"It's always been great. When I first came here, Tom and I had never worked together. He was in Indy, I was in New York, we pretty much came in around the same time. From my perspective, I always had a lot of respect for the Colts and how they did things. Obviously, they had a ton of success, and I always had a ton of respect for that stuff and how they did things. So when we get here, I was in New York with guys like Bill Parcells and those guys. He was in Indy with Coach [Tony] Dungy and Coach [Jim] Caldwell and Bill Polian. I think that we kind of grew up the same way, where it wasn't easy for us, where starting at the bottom and working your way up, so I think that mutual respect was there for one another. So when the opportunity presented itself for me to come here, that was really like a no-brainer. I enjoyed my time in New York and it was going great there, but I wanted to go and really be around somebody that was kind of outside what I had already grown up with. To really go and be around someone that was in a really different system, scouting system, things like that, I really wanted to learn that with how the Colts did things. But it's great, it's fun. I think our personalities are kind of similar, we're both very low-key guys. We don't say much, but when we need to communicate and talk, we do, which is good. So it's been good."
What are your general early impressions of this draft class?
"It's changed just because guys had that COVID years where they can go back, the whole NIL stuff is involved now ... who's coming, who's going. It's taken some time to kind of get your hands and head wrapped around that stuff. But as always, there's always quality players in every round. There's going to be guys that you know are going to be really good and they're going to go and do their thing. And there's some guys there that have a lot of potential and ability, and they're probably going to go off and do good. Then there's going to be some guys as always, where you think they're going to do it, but we'll see. But it's always from top to bottom, there's always going to be guys that are going to be just like you saw it and there's going to be some guys that you're just like 'Oh.' So hopefully we get the ones that we really like, which we always end up doing it seems."
How do you balance free agency and draft after the Combine?
"Even now, that's still kind of what I'm going through without kind of breaking my day up. If there's some college stuff I want to get done, I'll get that. But usually in the afternoons I switch over and start going through the pro stuff to make sure I'm up to speed with those guys. And again, every year where you are from a salary cap standpoint, how involved your team is going to be in that. It's always fun just to kind of see like, 'OK, we've done a pretty good job the last couple of years of going out and getting some players.' We'll see where we're at this year. I'm sure we'll end up feeling pretty good."
The Chargers have picked all over the first round in recent years. How does it differ when you pick at No. 21 as opposed to having a Top-10 pick?
"I think when you're in the top 10 — which isn't always a good thing, you don't want to be up there too often — but I think top 10 picks, you want to hit on all your first rounders but when you're up there. You really got to nail that pick. And I think the farther you slide down in the draft, I think you're still going to get a good player, but I think you're probably going to have more options and things will be a little bit more wide open for you where Top 10 you're probably going to select something you really need. Here, I think it's nice that I don't think we have to have something, which is a good feeling to have. You can kind of look left to right, up and down, all over. Options there for you, which is cool."