Chargers.com is chatting with various Bolts players throughout training camp. Ja'Sir Taylor is up next.
We appreciate your time Ja'Sir, how's camp been like? What have you gained the most from those 1-on-1 battles with those wide receivers?
"Honestly, a lot of knowledge of how to play these guys. One day I'm matched up against Keenan [Allen] where he has all the moves in the world, so when I'm against him I've got to slow my feet down and have my eyes in the right place because he'll give you 1,000 moves and it's all head fakes and stuff. When I'm going against Mike [Williams], he's going up for the ball so that gets me strong at the catch point. [Quentin Johnston] he's a little bit of both. Honestly it's perfect, especially in training camp, building my skills, I think it's a good way to get better."
How was your offseason? Did you get a chance to unwind after your rookie season?
"Yeah, my offseason was great. It's my first true offseason. Being in college you don't really have an offseason, then we had our offseason it was just so much time I didn't know what to do at a point. I rested for a little bit, took a vacation, spent time with my family and then got back to training. I like the flow of the offseason."
You mention how fast the timeline moves for a rookie. Was it a bit overwhelming in your first year?
"I mean it sounds overwhelming, but it's not as overwhelming as it sounds because we love football. I would do this all year round if I could. It's not as bad as it sounds."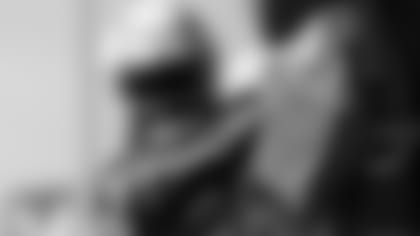 Did you ever get a chance to look back at your rookie year and just think about how it went? Going from sixth-round pick to big contributor on special teams and then defense late in the year?
"Yeah honestly, at the end of the season when I get back home, talk to my family, they ask me about the season. That really gives me time to think about how far I've came and the impact I have on this team and where I want to be in Year 2. It's great looking back, I wouldn't want it any other way. I got to learn from [former Chargers cornerback] Bryce Callahan, make some plays on special teams, get my feet wet on defense and it put me in a great position for this year."
Looking back at some of the film from your rookie year, was there an area of your game you really tried to focus on leading into the year?
"First, I wanted to put on a couple pounds, get a little bit stronger on my tackles in the move area as a defensive back, being strong and firm. And then also, technique-wise I wanted to get comfortable in press and just my pace in the slot. You can't play too fast and give up too many yards. You can't play too slow or you'll get ran by. Just perfecting that pace in that slot."
Was there a game last year where maybe it clicked for you?
"Yeah, it happened quick, my first start in the slot against Miami. Nobody's going to feel bad that I had a start on a week's notice. It's the NFL, next guy up. I really owned that and dove into the film, the game plan and I think I played a good game that day."
Switching to the defensive back group, we've seen them fly around and make plays through camp so far. What's been the mindset in the group been?
"Our mindset as a group is just to be the best group out here. We know the defense is going to feed off our energy. We're out here making plays, making big picks, celebrating. It's infectious and as a defense we need that energy. I think we're doing a great job in the DB group doing that so far."
Is there anyone in the room you try to pick their brain, or is it just as a whole group?
"No one in particular, I get bits and pieces from everyone, Asante [Samuel, Jr.], Derwin [James, Jr.], Alohi [Gilman], JT Woods. There's so many unique guys that specialize in different things that I can pick from their game and people who have been in the league two years, four years, five years. There's a lot of things I can learn from everybody."
We've seen you get work throughout your time here inside and outside, what's that been like getting to show your versatility and what have you learned from getting more experience?
"I've learned that if you broaden your vision, key in on splits, who's in the slot, who's outside, where they're aligned, motion, all that pre-snap stuff, it can make you much better when the ball is snapped. You can anticipate things coming and be on top of things."
You made your role as a rookie on special teams. How do you approach that area of the game and how much have you enjoyed that aspect?
"I love special teams, man. There's so many young rookies in here who I try to harp on special teams. This is the way to make the team and then ultimately increase your role on offense or defense. Any special teams drill, I'm out here trying to be an example on how to do it because even though I had success in Year 1 on special teams, I still got to do it again in Year 2. I'm glad I have that challenge. Special teams is a great avenue for earning more playing time."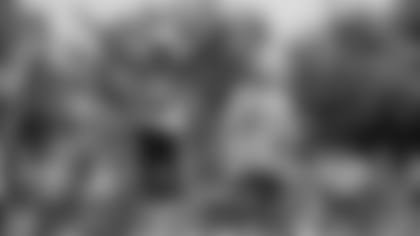 And as a team, what do you think the potential is for the DB group?
"Cornerback group, we're going to be the best. We got the tools to be the best and once we put it all together, I feel like we'll be the best DB group out there."
What about the defense as a whole? Are you excited about the unit?
"The best. We're flying around, we got edge guys, D-Line, linebackers, corners, safeties. And we all for the most part been together, know how to play with each other, we communicate well, we trust each other. I'm excited for the defense this year."
Do you think that camaraderie and another year together is a big part of all of that as well?
"Yeah, that does play a big part when you get to play with the same guys year in and year out. You kind of learn each other and know how to play off of each other. I think it helps out."
Bolt Up!
Secure your 2023 Season Ticket Memberships today! Click here to learn more.