When he's not blocking or catching passes on the field, you can find Sean McGrath practicing one of his favorite hobbies: art.
The tight end has been showcasing his creative side ever since he was he was a kid.  Growing up in Chicago, he was used to arts having a front and center role in the city's culture.  Being influenced by his grandma, who graduated from the art institute, McGrath got his BFA in studio art from Henderson State University.
What is it about the hobby that McGrath loves so much?
"It keeps your brain active," McGrath said.  "Anything you can do to get the wheels turning and have it not (always) be about football I think keeps you fresh and on your toes.  Especially with the creative side of your brain.  It keeps you balanced."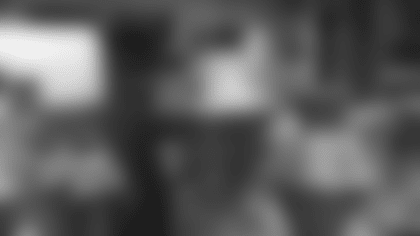 While he's passionate about football, McGrath is well aware NFL careers can be short lived.  Having come into the league as an undrafted free agent in 2012, he bounced around a few teams before finding a home with the Chargers halfway through the 2015 season.  Despite appearing in 16 games a season ago for the Bolts, he's cultivating his passion for his second career down the line.
"For a lot of guys, it's football, football, football.  A lot of times when it comes down to it, the 'Not for Long' is a different (meaning) for the NFL acronym. It's always good to have something to fall back on whether it's art, finance or whatever you decided to get your degree in.  It's important.  So, to be able to practice it while I'm at such a young age having this position is good."
Art mediums hold no bounds for McGrath.  From sculpture to sketches, he can do it.  He even sometimes draws his teammates on the plane. 
But, one of his favorite things to do is go to the beach and sketch people on the fly.  Who knows?  You may just be the next recipient of a McGrath original.
"I usually go to the beach because there are more bodies there.  I call it 'sniping' because I sit there and draw people.  I'll sketch the whole scene and it's kind of cool.  I'll draw the scene and if I see a couple or family enjoying the sunset, I like to capture moments like that.  I'll draw, rip it out and give it to them.  I always try to get my karma points and do something nice for people!  It's all about staying inspired and trying to inspire other people on a daily basis."