The word hero gets thrown around often when it comes to professional athletes.
One new Charger embodies what it means to be a hero to the fullest possible extent.
When the Chargers signed Chris Swain as an undrafted free agent, they added much more than a fullback. They also signed a proud member of the United States Naval Academy.  In fact, on May 27, he will be fully commissioned as a Surface Warfare Officer with an ensign rank.
"We know that Chris' first priority is to serve our country," General Manager Tom Telesco said.  "His second priority is the San Diego Chargers.  We're proud of that.  The Navy has been great accommodating him, and we'll accommodate him, too.  It's a unique situation."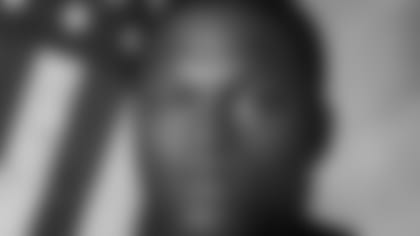 Swain first considered a path through the military when evaluating his football options late in high school.  Once he learned about the Navy, he felt compelled to head to Annapolis.
"I just wanted to serve our country," he said.  "Growing up, I always looked up to those in the military for what they do for us. I thought it was a good opportunity to serve, and to play Division 1 football. The Naval Academy is an awesome place and I recommend it.  It helps develop you as a leader.  The trials and tribulations you go through develop you as a man. It also makes you a better football player. It taught me to be a disciplined football player, and it taught me how not to be weak-minded.  I can accomplish different things and physical tests.  It was an indescribable experience."
Above all else, the Bolts signed the 6-0, 247-pound fullback because of his talents on the football field.  Swain set a career-high with 1,023 yards and 10 touchdowns last season in a multi-faceted role for Navy.
"Number one, he is a pretty good fullback prospect," Telesco said.  "He plays a position that is pretty hard to find in college football nowadays.  He played fullback in a triple-option offense, and he's not your traditional fullback.  He ran the ball a lot.  He has the strength to be a good blocker, but he also has some running skills. He can line up at running back and be a productive player there. For us, our fullback has to have some other roles too, whether that's on special teams or as a running back.  And then you add in the intangibles you expect from somebody from the Navy, which is physical and mental toughness, work ethic, high character and a leader.  They are all top notch, so he's a great prospect to have."
Swain had numerous offers on the table after going undrafted, but knew San Diego was his best option.
"I chose the Chargers because I felt it was a good fit," he said.  "I can play both running back and fullback here.  We'll see what happens.  I'm a tough player.  I'm really tough.  Playing in the triple option, you get hit on every play.  I'm used to contact."
It also goes without saying that a military town like San Diego is the perfect place for Swain.
"Chris has two jobs," Telesco said.  "We have 90 guys, and 89 of them have one job but he has two. The fact that we are a city with a big military presence helps as he'll be able to do both jobs here. Every kid that plays for the Naval Academy, Air Force, West Point or the Coast Guard, they all know going in that serving our country is their first priority.  If the chance to play in the NFL comes along, great.  But they attend those places for a reason, and that's to serve our country.  He is prepared to take on both tasks, and I think he'll be able to do that."
Swain agreed with that assessment.
"The Navy taught me how to handle a lot of responsibility," he said.  "I had to manage school, football and my military responsibility.  I think that is what helped get me here. It was tough, though.  That first year there was really hard.  They throw everything at you.  That's why a lot of people don't see the field their freshman year.  Fortunately, I had a chance to play a lot as a freshman. You really just learn through time how to balance your responsibilities. I think that will help me."