J.C. Jackson's rehab from a serious knee injury continues to trend in the right direction.
The Chargers cornerback spoke to Bolts beat reporters for almost 10 minutes Tuesday after the team's first minicamp practice and gave an update on his potential return to the field.
Jackson, who suffered a torn patellar tendon in his right knee in Week 7 of the 2022 season, didn't want to give a percentage on where he's at health-wise.
But he wore a smile and was fired up when describing the progress he's made in recent months.
"I wouldn't put a percentage on it," Jackson said. "But I'm getting there. I'm almost to where I want to be."
Jackson later noted he was given a seven to eight-month recovery timeline and said he's "right on track" with that.
"There wasn't no offseason for me. I've been grinding," Jackson said.
The 27-year-old has been working off to the side of the practice field with a helmet of late, another step that his recovery is going well.
He credited Marco Zucconi, who was recently elevated to the team's Director of Player Health and Performance, for helping guide his offseason rehab process.
And while it remains to be seen if Jackson will be cleared to fully participate for training camp, he said a June 19 appointment with Dr. Neal ElAttrache will be a big step.
"By the looks of it, the way I'm moving, the way I'm performing and what I've been doing with Marco the past few months, when [the doctor] does see me to check in on me, I think he's going to see that I'm ready," Jackson said.
Chargers Head Coach Brandon Staley said the team is optimistic on hopefully having Jackson available for training camp.
"He's progressing. He's been working really hard," Staley said. "This summer will be important for him."
"I think that the summer is going to tell a lot about his ability to be full-go for training camp," Staley later added.
But Staley noted he isn't surprised of where Jackson is at in terms of his progress.
"No. He's engineered differently," Staley said. "I fully expect for him to be out there playing his game at some point this fall."
Although much of the focus this offseason was on the rarity of Jackson's injury — only a limited number of professional athletes have ever suffered a torn patella tendon — Jackson said his own focus was on the mental side of things.
That included the daily grind of rehab, exercises and a constant internal motivation.
"It's a lot. It's all mental. It's how you approach it every day," Jackson said. "And it's all up to you. Do you want to get better? How good do you want to be? I ask myself that each and every day.
Does the Pro-Bowl cornerback believe he can return his elite form?
"Of course. And that's why I say that it's all mental," Jackson said. "In my mind, if I'm not confident then I won't have a good season."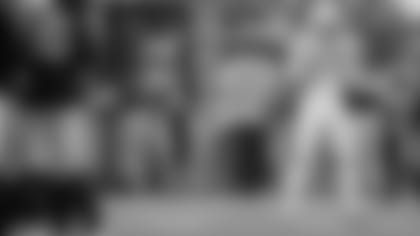 Jackson admitted Tuesday that the early days on the field in powder blue didn't exactly go according to plan after he signed a multi-year contract last offseason.
A minor August ankle procedure meant Jackson missed two of the Chargers first three games in 2022. And when he did return to the field, he had ups and downs adjusting to a new system.
Then came a fluke injury and Jackson's 2022 season simply never materialized.
"I felt like [crap]. I hadn't done anything, got hurt and just got paid," Jackson said. "I still have to prove to my teammates and myself that I'm still 'Mr. INT.' I didn't do [anything] last year. I felt like [crap] and didn't feel good at all."
Staley said Tuesday that the Bolts expect Jackson to be his usual self once he does get back on the field.
"Fundamentally, we're asking him to do the things that he's done his whole career, just it's with us. I think it's just getting that comfort zone of being around the guys that you play with," Staley said. "It's not an individual sport. I think that people underestimate the transition for players because it's much more challenging in football to transition to a new team.
"I think you've seen it with quarterbacks that have transitioned to new teams. He is the player that we signed, we know that," Staley added. "I'm confident that in training camp, once he gets to working with his teammates, that he'll be able to showcase the real player that he is."
Based on Jackson's progress, the Bolts defense could be getting a big boost sooner rather than later.
"I expect myself to come out here and practice every day," Jackson said of his mentality. "That's how I'm taking it mentally — that I'm going to be ready for training camp, ready for Week 1. Whenever the doctors say I'm cleared, I'm going to be ready."
"I'm ready to get back out there. I love the game of football and I'm ready to compete," Jackson later added. "I can't wait for that day."
Bolt Up for 2023!
Secure your 2023 Season Ticket Memberships today! Click here to learn more.