With players reporting this morning, we checked in with Nick Hardwick and Josh Lewin to get the Chargers Radio Broadcasters' thoughts and opinions heading into training camp.
Question:So first things first, I want you guys to give me one sleeper or under the radar player for fans to watch when they come out to Chargers Camp.
Hardwick:The under the radar sleeper I want to see is Jatavis Brown.  He is a real hybrid, and I'm interested to see how we utilize him.  Jatavis has the size to be a linebacker and the speed to be a safety.  He has the skills and physical tools to be both. I want to see him as a dime safety.  I'm just throwing that out there!  Tyrell Williams is another guy.  He has unbelievable big play ability, and can bring something different to this offense.  And Matt Slauson isn't under the radar, but of course I want to see how he does and what he brings to the offensive line.  By all accounts, it's been good so far. 
Lewin:  I'm fascinated by the thought of what a fullback could mean for the run game, and I know it's not fair to ask anyone to come in and be Lorenzo Neal circa 2006, but between Derek Watt and Chris Swain, someone's going to emerge to be a key piece of this team I think.  Maybe not a true Neal-style smash-mouth fullback but a Mike Tolbert-style guy who comes out of nowhere to bolster the offense.  And there always seems to be a receiver who sneaks onto the scene from out of nowhere. Tyrell Williams did it last year, so who's got next?  Jamal Jones? DeAndre Reeves? Dom Williams, no relation to Tyrell? Dom was a monster for Washington State last year. I was surprised he didn't get drafted. Runs a sub-4.4 40 and he's a great leaper. Maybe it's the second straight a year a Williams from the Pacific Northwest swoops in to make an impression.
Question:In your opinion, what are the main storylines heading into this season?
Hardwick: Are the Chargers committed to the run?  And does it matter to them?   I'm not sure that is something we will find out during training camp.  It's really hard to tell during camp because there are periods that are used just for the run, and periods used just for the pass.  We may not even find out if they are truly committed in the preseason.   I'm talking about when it's the regular season and things get going, and you may not be having success early, do you stick with it? Now, if you want to talk about the key to this team's success –it's special teams.  The Chargers had the worst special teams unit in the league last year, and they can really set the tone to make it a downhill battle for the offense when they do get the ball back.
Lewin: It was such an energizing feeling when the news came down in January that the Bolts were staying and not going; I'm really interested in seeing if that funnels onto the field itself, if guys see the merit of second chances.  4-12 was such a gut punch last year; but now, with largely the same cast of characters, it's like, okay, 'take two.'  I sure hope Melvin Gordon feels that way. That was not what he or anyone had in mind for a rookie season, but it feels like everyone now gets a mulligan, and I have to think Gordon's the most excited to get that chance.  I think he learned a lot last year, and if he grows from that experience, he could be the most pleasant surprise on a team that has a chance to do that in a larger sense.  The Vikings and Jets are two teams that come to mind who quietly set up for a better season last year than the one before it, and they both got it done. In fact the Vikings were a missed field goal away from doing some major damage in last year's playoffs.  I would love to see the 2016 Chargers be the 2015 Vikings, only with the playoff game being in warmer weather, and the field goal going through the goalposts.
Question:In terms of the draft class, which rookies are you most eager to see?
Lewin: I guess the obvious answer is Joey Bosa, but those new linebackers really have my attention too. Everyone raves about what a high-motor and high-character guy Joshua Perry is… he seems to fit the mold of the new Charger defense, built on a combination of instincts and passion.  If he's able to think like a Manti Te'o and slam bodies like a Denzel Perryman, that sounds like the perfect combination of a linebacker to me.  Similarly, I'm really excited to see what John Pagano does with Jatavis Brown – he was such a skilled player at Akron, and he could fit at linebacker, safety, who knows.  It's nice to know there's now a template for the kind of player the Chargers are looking for defensively – that combo platter of skills and smarts.  My first years with the Chargers, there were guys like Steve Foley and Randall Godfrey. Not superstars, just solid, stay at home, hit-you-hard, linebackers who made plays.
Hardwick:I already mentioned Jatavis Brown, and of course there is Joey Bosa.  But I'd like to see how Joshua Perry performs.  Those two linebackers - Perry and Brown – they could have a huge different on special teams.  Like I mentioned earlier, that is an area this team needs to be better at. They were last in the league, so guys like Jatavis and Joshua can really make an impact in that area.
Question:What is your key to a successful training camp?
Lewin: Health!  The season itself has taken such a toll these last few years, the last thing you need is some extended-play injury to a key performer.  The Bolts are banking on this offensive line simply not needing duct tape to stay upright anymore – I don't advocate putting bubble wrap around them, but at the same time, boy, light a candle and hope for the best for these guys.  To get the run game going and give Philip time to work his magic, a healthy o-line is so necessary.
Hardwick:I agree with Josh.  Number one, it's staying healthy. That's a huge part of it.  But also being as competitive as you can be with one another without being combative.  That's how you find ways to improve as a team and as a unit every single day.  It's about that competition.  It fires me up!
Question:And last but certainly not least, this year marks the first year with you two in the booth.  Are you guys ready to make your debut on Aug. 13?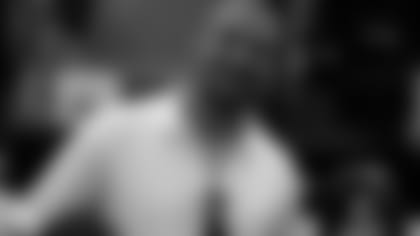 Lewin: I'm so excited to get going with Nick. We've already had some 'broadcast bootcamp' sessions together working on our rhythm and timing, but mechanics aside, what the fans will love about Nick is his obvious passion for the Chargers and football in general.   Nick is loved in San Diego because, well, he's Nick. The genuine article. Everyone's friend. Look at this picture of Nick with my kids on a road trip to Miami in 2008.  I think we will work together very well, and get better and better as the season goes along.   Personally, I can't wait to get back to San Diego and start to settle in. And hopefully the Chargers will be settling into San Diego long-term themselves as of November 8.  Nick and I both have a real desire to be a part of all this for a very long time.  That first broadcast from Nashville can't get here soon enough!
Hardwick:That photo says a lot about our relationship.  Josh and I have had a great rapport for years because he's worked with the team for so long.  He is a gregarious guy.  He always comes down and lets every player know who he is.  So we've had a great connection through the years.  I've even seen his band play at the House of Blues downtown!  Now, am I anxious?  Heck yeah I am!  You better be nervous otherwise you aren't growing. But Josh and I are naturally very comfortable together, so we are ready to go!