Football is the ultimate team sport.  But much like how it takes a group effort to win on Sundays, it took a team to assemble a massive food and supply drive to benefit the Hurricane Harvey victims on Wednesday.
The Spanos Family and the Los Angeles Chargers teamed up with Albertson's Companies, Alexander's Mobility Services, The Dingman Group and Pepsi.  With the expectation of filling one moving truck with donated items, the Bolts exceeded that standard, ending the day with two trucks that will drive straight to Houston.
"You just feel compelled, you just have to do something to help," mentioned Chargers Owner and Chairman of the Board Dean Spanos, who with his family generously donated $500,000 for relief efforts. "I think more than that though, having people come out and support the cause to help these people in Houston, that really says it all.  It doesn't have to be about where you're from…it's about helping people.  That's the thing I like the most about when you see all the people out here today."
"From Dean (Spanos) all the way down, this is something close to their heart," explained Chris Dingman, President of The Dingman Group.  "They donated a lot of money, the organization donated their time and they're putting a lot of effort into this.  I think the community notices that.  That's something that you want to be a part of."
Nearly 20 players spent their day off shopping for items, packing boxes, and moving pallets of products.  Texas native Head Coach Anthony Lynn said "there was no way I was going to miss this," joining the effort in between his work day getting ready for Week 1. 
"The players have been great," explained John Spanos – President of Football Operations.  "They get one day off a week, and here they are on their day off.  We had (almost) 20 players come out on their day off to help.  (They shared) their time, their effort, their money and donated to really just be a part of the cause."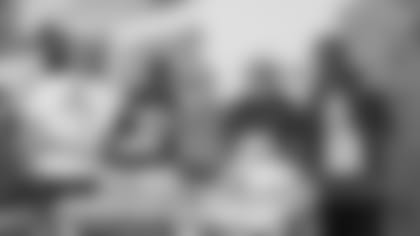 Three of those players had specific ties to Houston: Russell Okung, Damion Square and Derek Watt.
Okung, like many of the players, went shopping on his own to help those in need.  As a Houston native, he was personally touched by the Spanos Family and the Chargers holding an event like Wednesday's.
"What I did was no comparison to what Houston's done for me," Okung said.  "I'm a Houston native and Houston has given me so much.  To have an opportunity to give back in some sort of form (is great).  It's about loving your neighbor.  How do you love your neighbor?  You help them in times of distress.  However I can support, whether it's my resources, my funds, whatever; I'm down to do that…. I'm really grateful that the Spanos Family and the Chargers decided to donate their dollars as well as the corporate partners who got behind these relief efforts in Houston."
Another Houston native, Damion Square, brought two U-HAULs full of donated items he and his wife collected from his son's school.  With family still in the city, he was personally touched by the out showing of support from the community.
"It means a lot to me and all the people in my family," Square explained.  "It's a great town.  Great city.   One of the most diverse cities in the United States of America.  There's a lot of love there.  It's a real cultural place so for them to get hit with something like this (is hard to see). I don't think the hurricane was unexpected, but the disaster of the hurricane was unexpected.  So, to give back and help people to move back with stability is just a great thing."
With his brother on the Houston Texans, football truly is family for Derek Watt.   J.J. Watt has raised over $27 million for relief efforts, and Derek was thrilled that his team pitched in to show they are Houston Strong.
"We're trying to do our part," Watt mentioned.  "Obviously my brother's got a much larger scale procedure going on…so it's amazing what people all across the country have done.  Just kind of banding together and helping out.  Today, we just came together as a team and tried to do our part."
Charger players and coaches helped volunteers load multiple semi-trucks full of non-perishable goods that will be taken to Houston to support Hurricane Harvey victims.