Here are five things you need to know about new tight end Virgil Green, who agreed to terms on a three-year contract with the Chargers on Wednesday.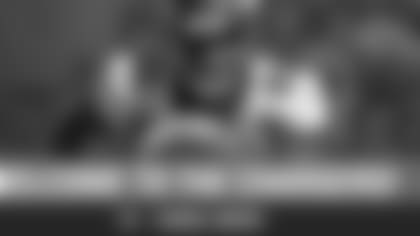 Reunited and it Feels So Good – Coming to the Chargers means Green is reunited with former Broncos teammates Russell Okung and Michael Schofield.  Schofield and Green were a part of Denver's Super Bowl 50 winning squad who beat the Carolina Panthers.  Ironically enough, Okung beat Green and the Broncos in Super Bowl XLVIII before joining him in Denver two seasons later.
Cali Comeback – Green grew up in Tulare, California, a city with fewer than 60,000 people located in the Central Valley.  He attended Tulare Union High School where he played football and also lettered four years in basketball and another year in track and field. 
Better Late Than Never– Green didn't start playing football until he was in high school, and attributes his friends with getting him to try out for the sport.  He began his career on the gridiron as an outside linebacker before being moved to tight end/receiver his junior year.  Green then went on to play college football at the University of Nevada.    
Community Ambassador– Green put in work both on and off the field with the Broncos.  He was selected as Denver's Walter Payton Man of the Year nominee in 2016 as well as being named the 2015 Broncos Community Ambassador Award winner and the Denver Broncos Community Champion Award winner in 2014.  Additionally, he worked with Mile High United Way as well as participated in team Play 60 events.
Staying in the West – AFC West that is.  Green was drafted in the seventh round by the Broncos in 2011 and spent the last seven seasons in the Mile High City.  He started all 16 games in 2017 catching 14 passes for 191 yards and one score.