Andre Reed is an NFL legend who requires no introduction.
Inducted into the Pro Football Hall of Fame in 2014, the former Buffalo Bill caught 951 passes for 13,198 yards and 87 touchdowns.  A seven-time Pro Bowler and three-time All-Pro, Reed was an integral member of a Bills' dynasty that reached four straight Super Bowls.
Thus, every single Charger listened intently to Reed's message as he addressed the team at the end of Wednesday's practice.  His message was a simple one that resonated with the Bolts.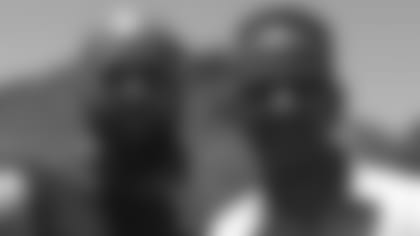 "This game affords you a lot of things, and it's very rewarding if you do the right things on and off the field," he said.  "I want to tell them basically they are here for a reason, and they need to show the team that reason.  Don't take anything for granted. You have to leave no stone unturned.  Cross every T. Dot every I. With the way the game is now, training camp isn't what it used to be.  So your opportunity is there, but it is not as presentable to you."
"To have somebody come around that has Hall of Fame credentials, and be in the Hall of Fame (was special)," Head Coach Mike McCoy said.  "The number of years he played, where he came from, how he got there and to really talk to the players and to share his experience in the league was great. His message was outstanding."
It's not surprising that two players who especially took his message to heart were a pair of wide receivers.
"Andre is my guy and we've had a relationship for about two years," said Keenan Allen.  "His message was great.  He's been a Pro Bowler and to the Super Bowl four times.  He is in the Hall of Fame. This guy knows what it takes. It was a blessing to hear from him.  I try to be like him because he is one of the greatest."
As another former Buffalo Bills wide receiver, Stevie Johnson is very familiar with Reed.  In fact, he met the Hall of Famer during his rookie year, and remains as in awe of Reed today as he was back then.
"Today felt just like my rookie year in Buffalo when I saw him.  He is the guy. Seeing him today and hearing him talk felt like I had never met him because his words meant just as much today. I think it was good for us all to hear.  You can tell he is real.  He gives me confidence.  He is doing what he is supposed to do as a legend, and that is give us pointers to keep us mentally and physically ready."
Reed was invited to speak to the Chargers by General Manager Tom Telesco, who formed a bond with the wide receiver when he served as an intern with the Buffalo Bills in the early nineties.
"Tom was an intern with the Bills back when I played, and he'd run to get balls on different fields two or three miles away!" he joked.  "I'm just proud of him with what he's done and how he's come to be. His knowledge of the game is definitely going to bode well for the team.  He asked me to come out here and speak to the team about my experiences in the game, how I played so long and all those types of things.  Of course I'd love to.  It's a great opportunity to talk to these young guys."