Chargers Hall of Fame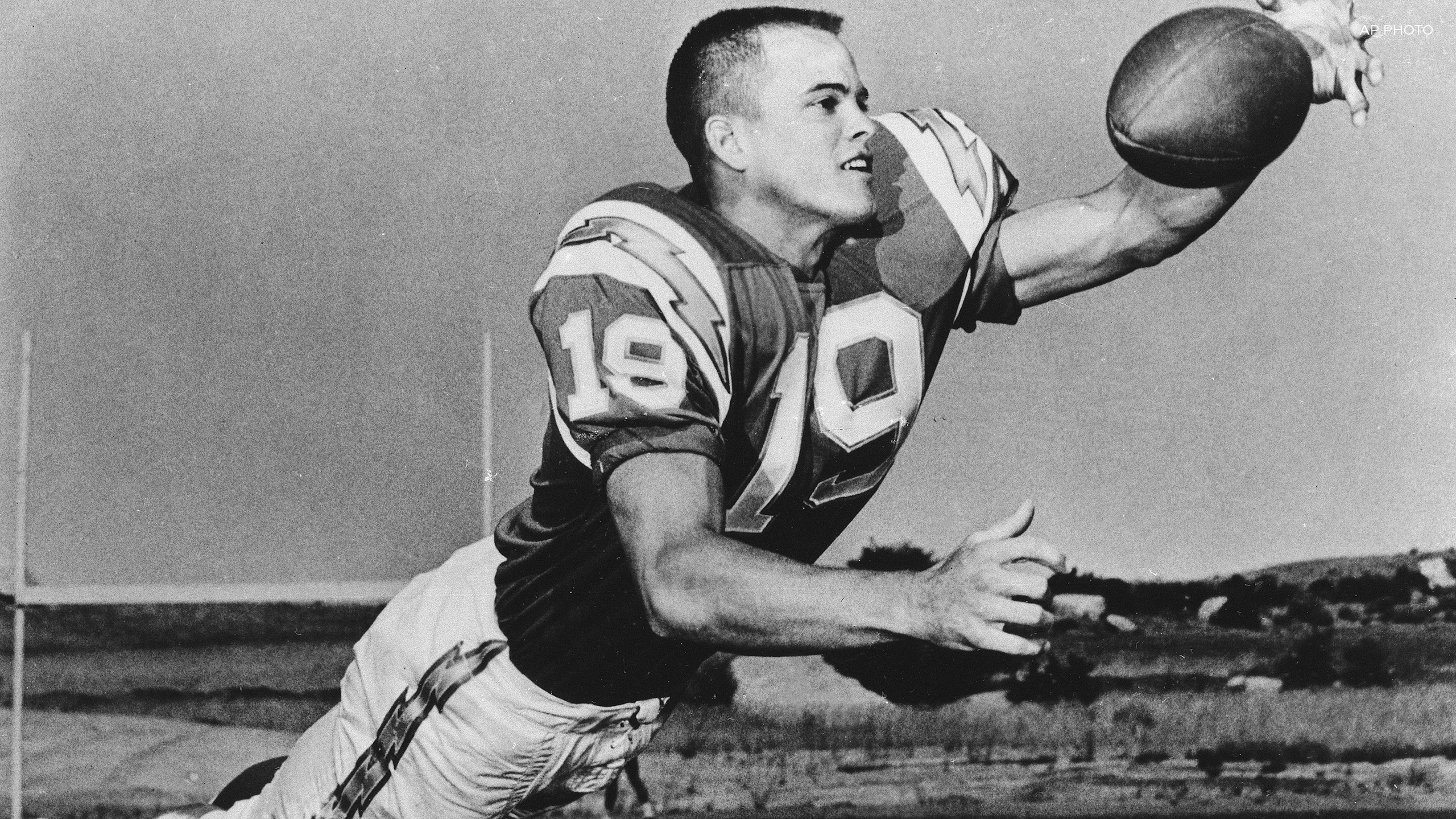 Lance Alworth
WIDE RECEIVER: (Chargers) 1962-1970, (Cowboys) 1971-1972
In 11 pro seasons, he caught 542 passes for 10,266 yards, an 18.94-yard average and 85 touchdowns ... During his nine seasons with the Chargers, he averaged more that 50 catches and 1,000 yards per season ... Was named All-AFL seven straight seasons from 1963-1969 and played in the league's last seven All-Star games ... He also recorded a pass in 105 consecutive games.
Inducted into the Hall of Fame in 1978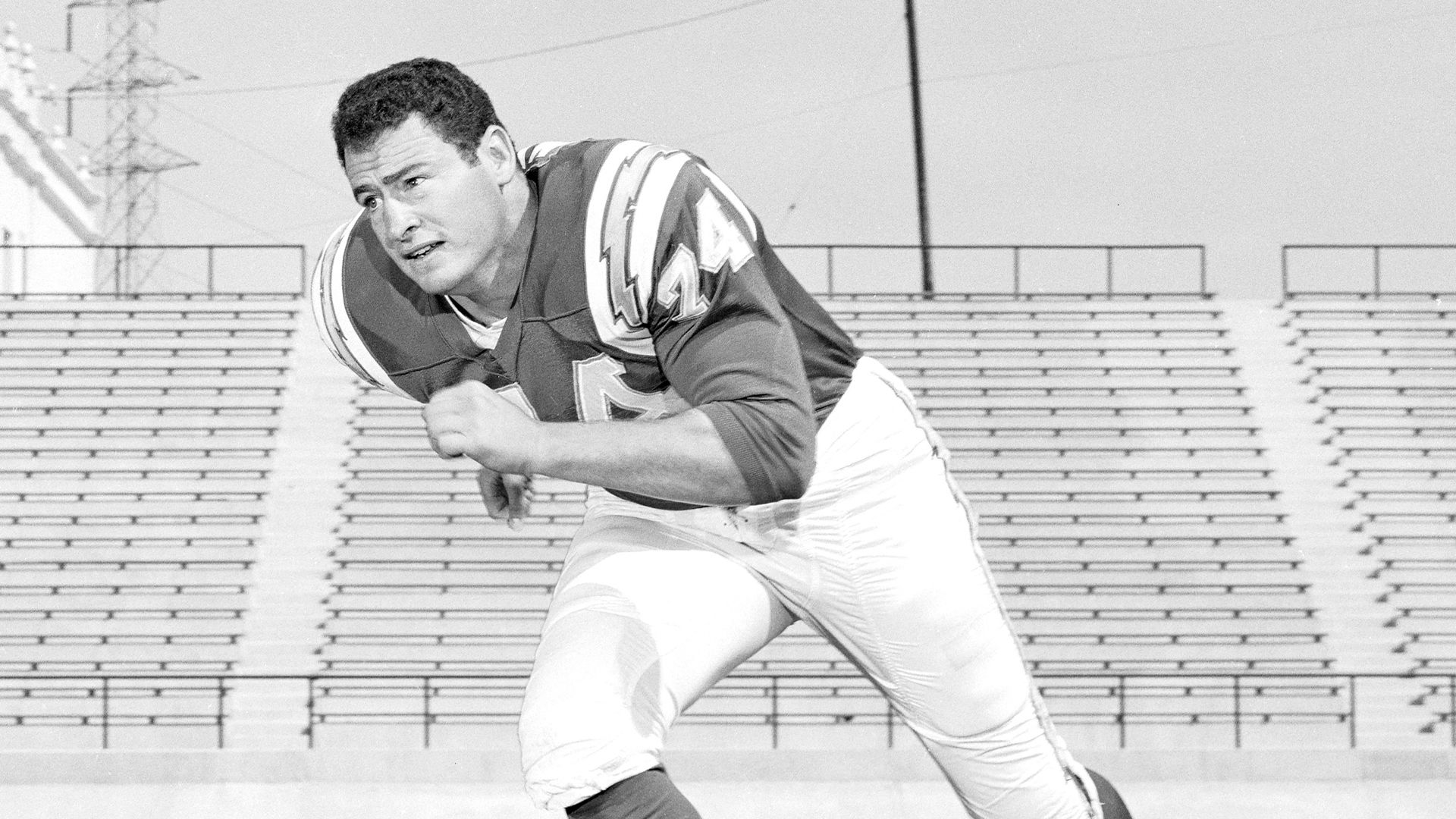 Ron Mix
TACKLE: (Chargers) 1960-1969, (Raiders) 1971
During his 10 years with the Chargers he was assessed for only two holding penalties ... Mix was an All-AFL selection eight times as a tackle and once as a guard, he also played in eight AFL All-Star games and five of the first six AFL title games ... Unanimously chosen for the AFL's all-time team in 1969.
Inducted into the Hall of Fame in 1979
Sid Gilman
COACH: (Rams) 1955-1959, (Chargers) 1960-1969, 1971, (Oilers) 1973-1974
Coached for 18 season with a career record of 123-10407 ... Chargers won the divisional crowns five of the league's first six season and the AFL title in 1963 ... Gillman became the foremost authority on a forward passing offense ... Gilman was the first coach to produce divisional champions in both the National and American Football Leagues.
Inducted into the Hall of Fame in 1983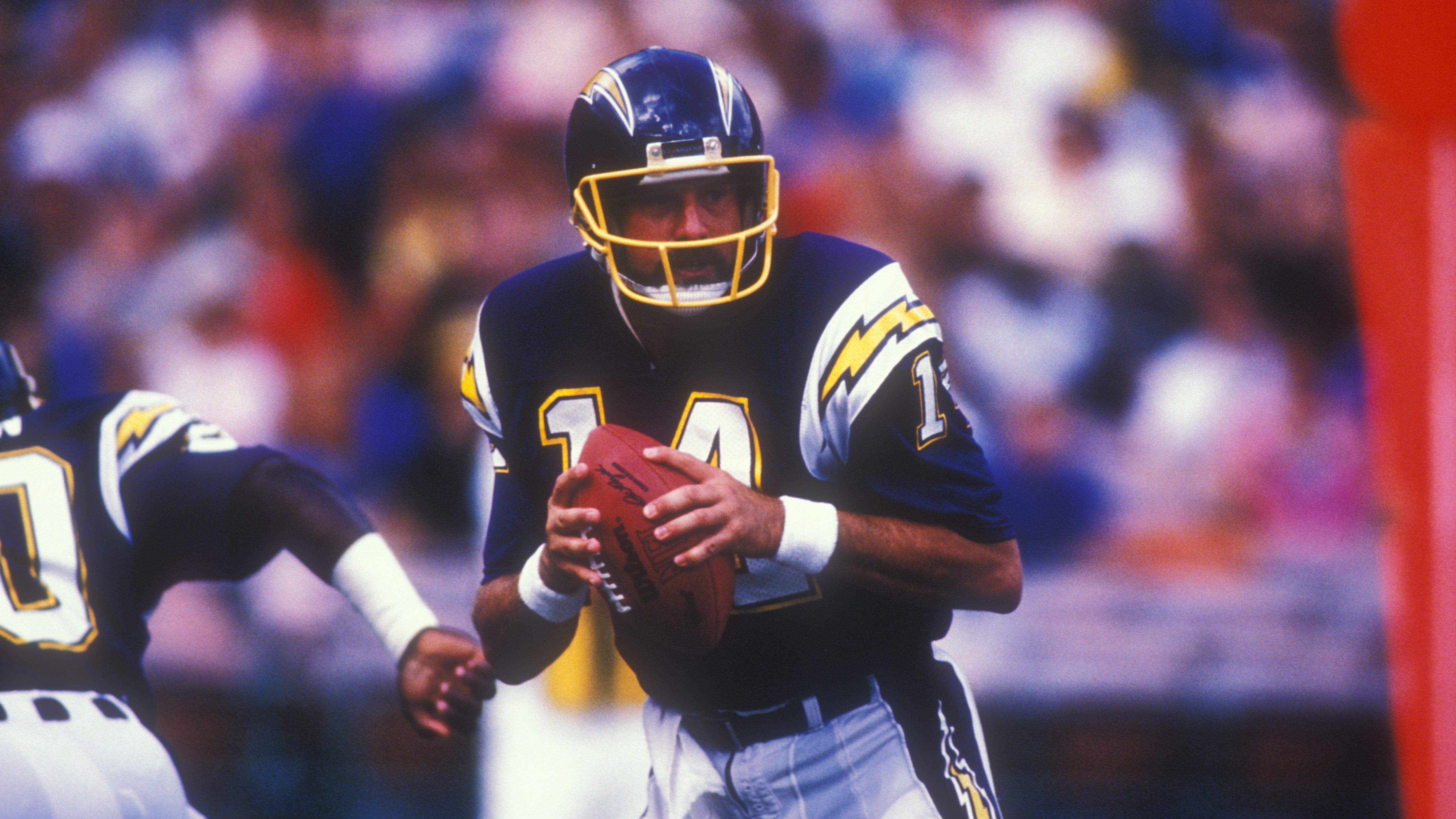 Dan Fouts
QUARTERBACK: (Chargers) 1973-1987
In 15 seasons, Fouts completed 3,297 passes for 43,040 yards and 254 touchdowns and finished with an 80.2-point rating ... At retirement, he was one of only three quarterbacks to pass for more than 40,000 yards ... Fouts led the NFL in passing yardage in four straight years from 1979 to 1982, and became the first player in history to throw for 4,000 yards in three consecutive seasons. In 1982 he was named NFL MVP, he was a six-time Pro Bowler, and was an All-Pro in 1979, 1982, and 1985
Inducted into the Hall of Fame in 1993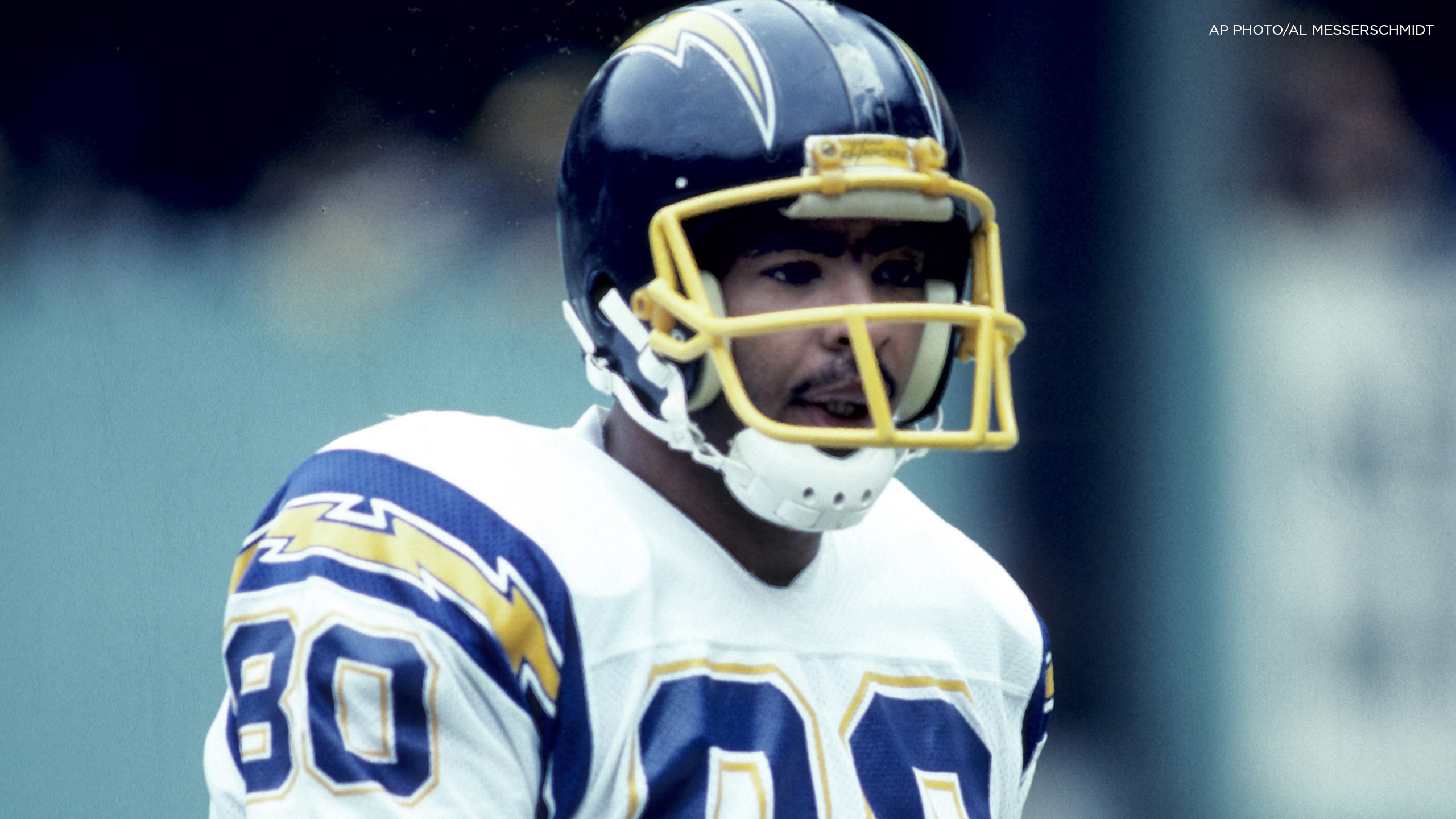 Kellen Winslow
TIGHT END: (Chargers) 1979-1987
Amasses 541 receptions for 6,741 yards and 45 touchdowns in just nine National Football League seasons ... In 1984, Winslow set a personal record with 15 receptions in a game against the Green Bay Packers ... At the time of his retirement, Winslow ranked 5th among active receivers and 14th among all NFL pass-catchers. Winslow was also a consensus All-Pro in 1980-1982.
Inducted into the Hall of Fame in 1995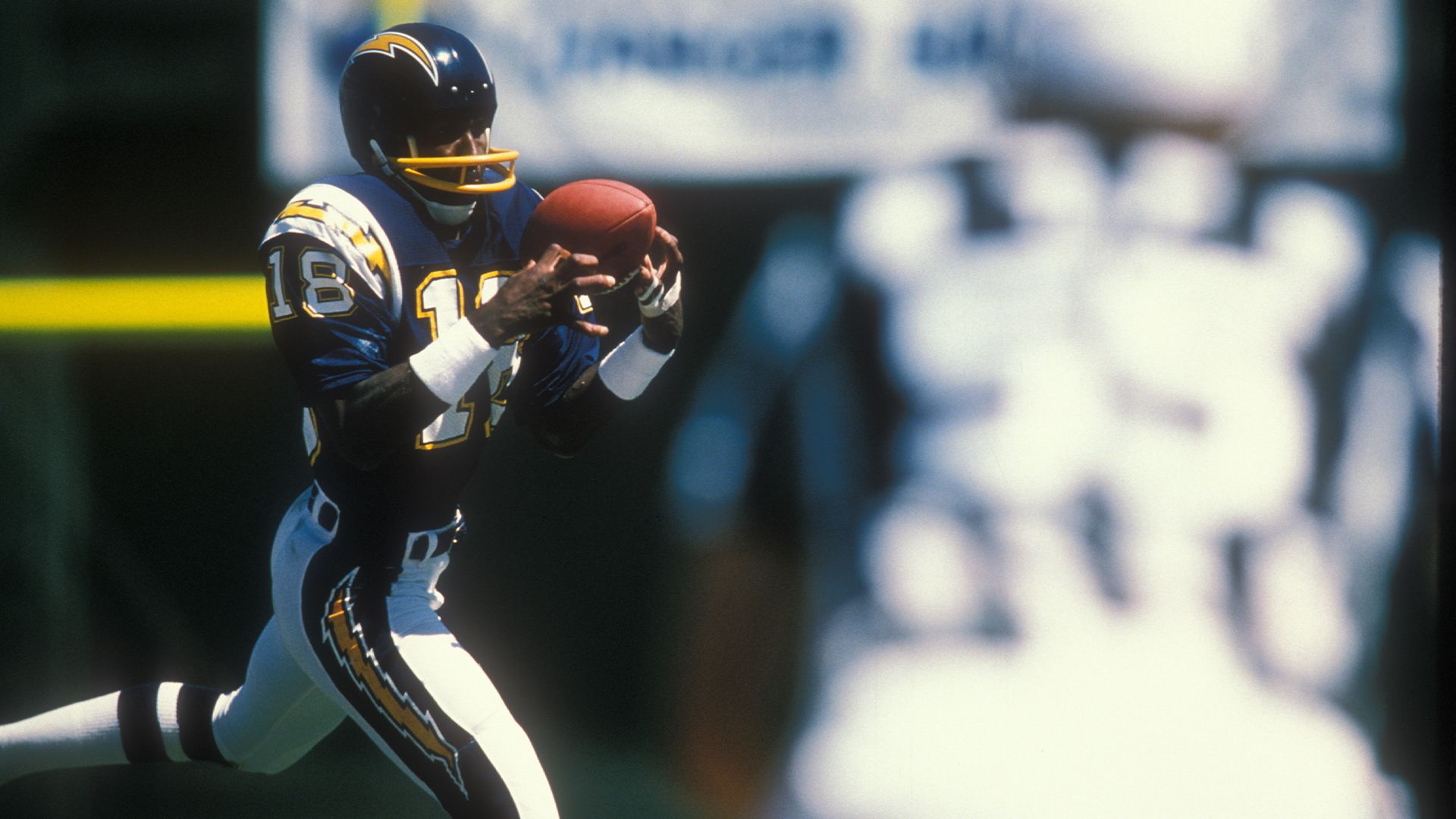 Charlie Joiner
WIDE RECEIVER: (Oilers) 1969-1972, (Bengals) 1972-1975, (Chargers) 1976-1986
Averaged 16.2 yards per catch and accounted for 12,146 yards and 65 touchdowns on his receptions in 18 seasons ... Ranked sixth in career reception yardage ... During his 11 years in San Diego, Joiner caught 50-plus passes seven times and had three 70-plus reception seasons. Joiner was an All-NFL pick in 1980 and was a to Pro Bowl choice three times.
Inducted into the Hall of Fame in 1996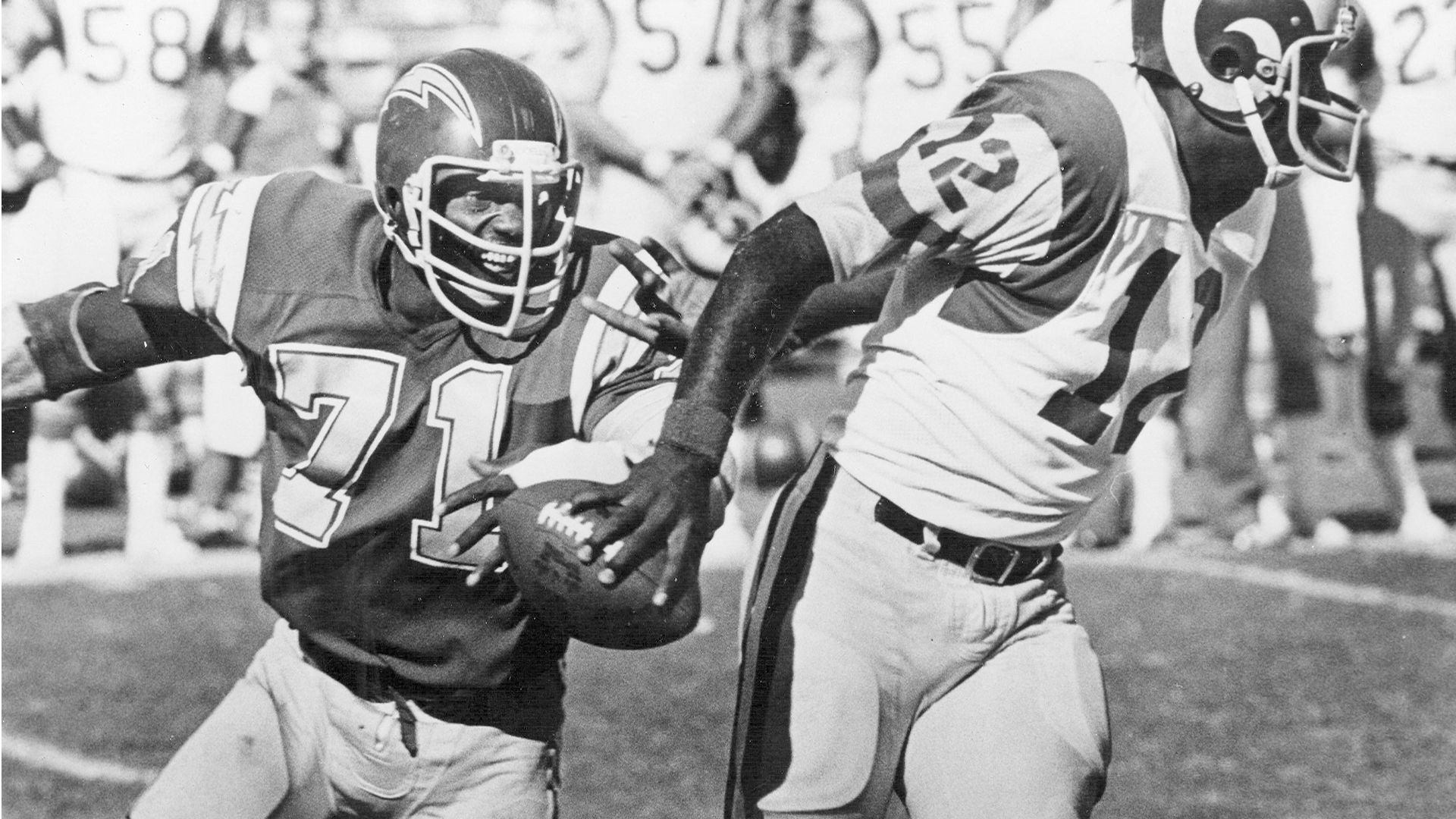 Fred Dean
DEFENSIVE END: (Chargers) 1975-1981, (49ers) 1981-1985,
Fred Dean was named to four Pro Bowls (1980-1982, 1984) and selected All-Pro twice (1980-1981) ... The sack did not become and official NFL statistic until 1982, had it been an official stat for his entire career, his sack total would stand at near 100. Dean set a then NFL record six sacks in one game. He played on five division winners. Dean also played in three NFC championship games and in two of San Francisco's Super Bowl victories. Dean earned all-conference honors four times - twice with the Chargers and twice with the 49ers.
Inducted into the Hall of Fame in 2008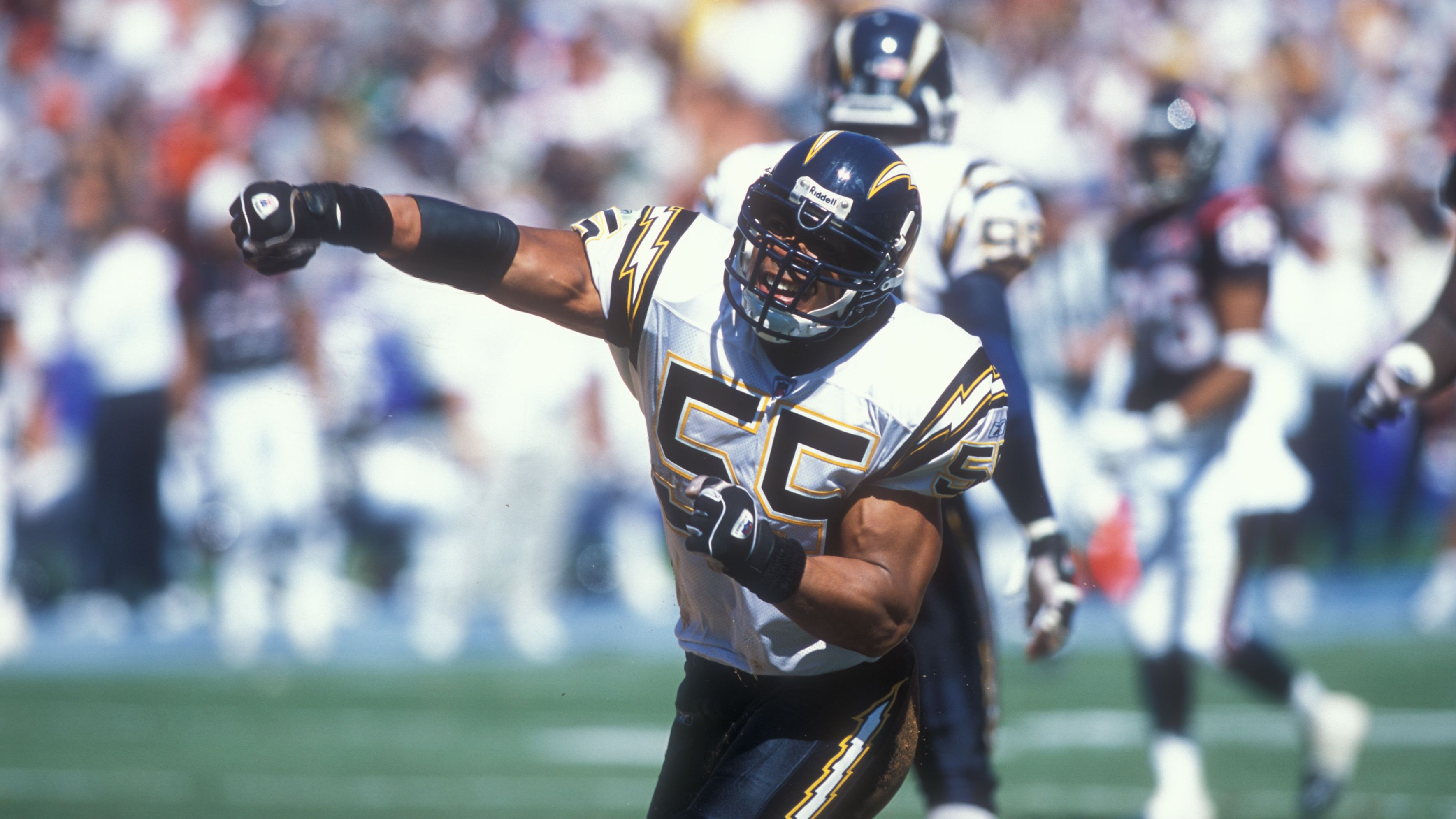 Junior Seau
LINEBACKER: (Chargers) 1990-2002, (Dolphins) 2003-2005, (Patriots) 2007-2009
Played 268 career games. In 64 regular season games he recorder 10 or more tackles, amassed 56.5 career sacks and intercepted 18 passes. Seau has also recovered a fumble for a touchdown and had two pass receptions during his career ... Named NFL Defensive Player of the Year in 1992 by UPI and Football Digest. Seau was also named to the NFL's All-decade Team of the 1990s.
Inducted into the Hall of Fame in 2015
LaDainian Tomlinson
RUNNING BACK: (Chargers) 2001-2009, (Jets) 2010-2011
All-Pro in 4 straight seasons (2004-2007). Voted into 5 Pro Bowls over a 6-season span ... Rsuhed for 13,684 career yards on 3,174 carries and scored 145 rushing touchdowns ... Added 4,772 yards on 624 catches and 17 touchdowns ... Named to NFL's All-Decade Team of 2000 ... Captured back-to-back rushing titles, 2006-2007. In 2006 was named the NFL's MVP.
Inducted into the Hall of Fame in 2017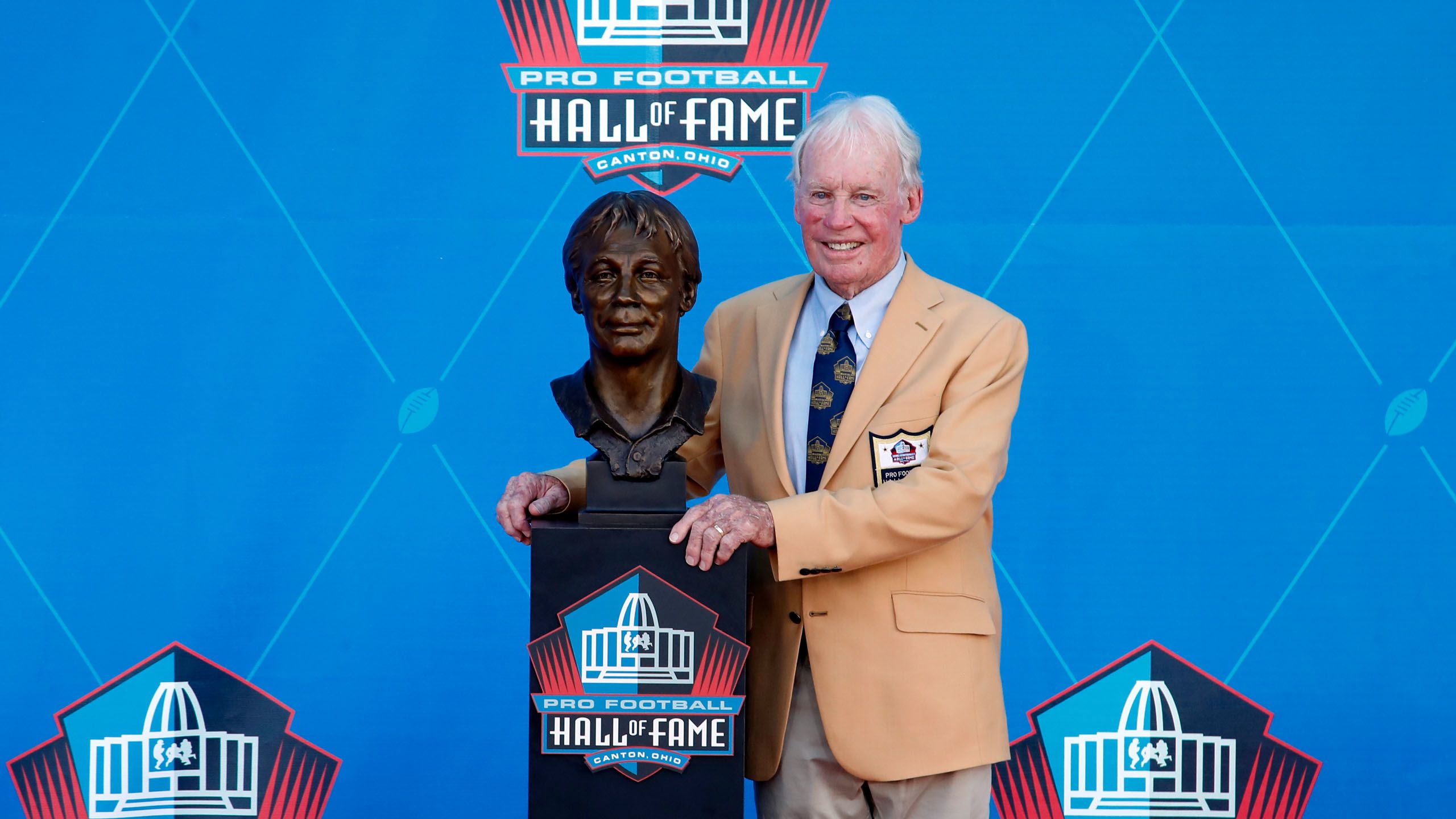 Bobby Beathard
EXECUTIVE: (Chiefs) 1966-1967, (Falcons) 1968-1971, (Dolphins) 1972-1977, (Redskins) 1978-1988, (Chargers) 1990-1999
His teams won 10 division titles, seven league/conference championships and four Super Bowls - Super Bowls VII and VIII with Miami and Super Bowls XVII and XXII with Washington ... Beathard was hired as general manager of the Chargers in 1990. In just his third season in San Diego, the organization won its first AFC Western Division championship in more than a decade and by 1994, the team made its first Super Bowl appearance.
Inducted into the Hall of Fame in 2018