Chargers Official Site | Los Angeles Chargers - chargers.com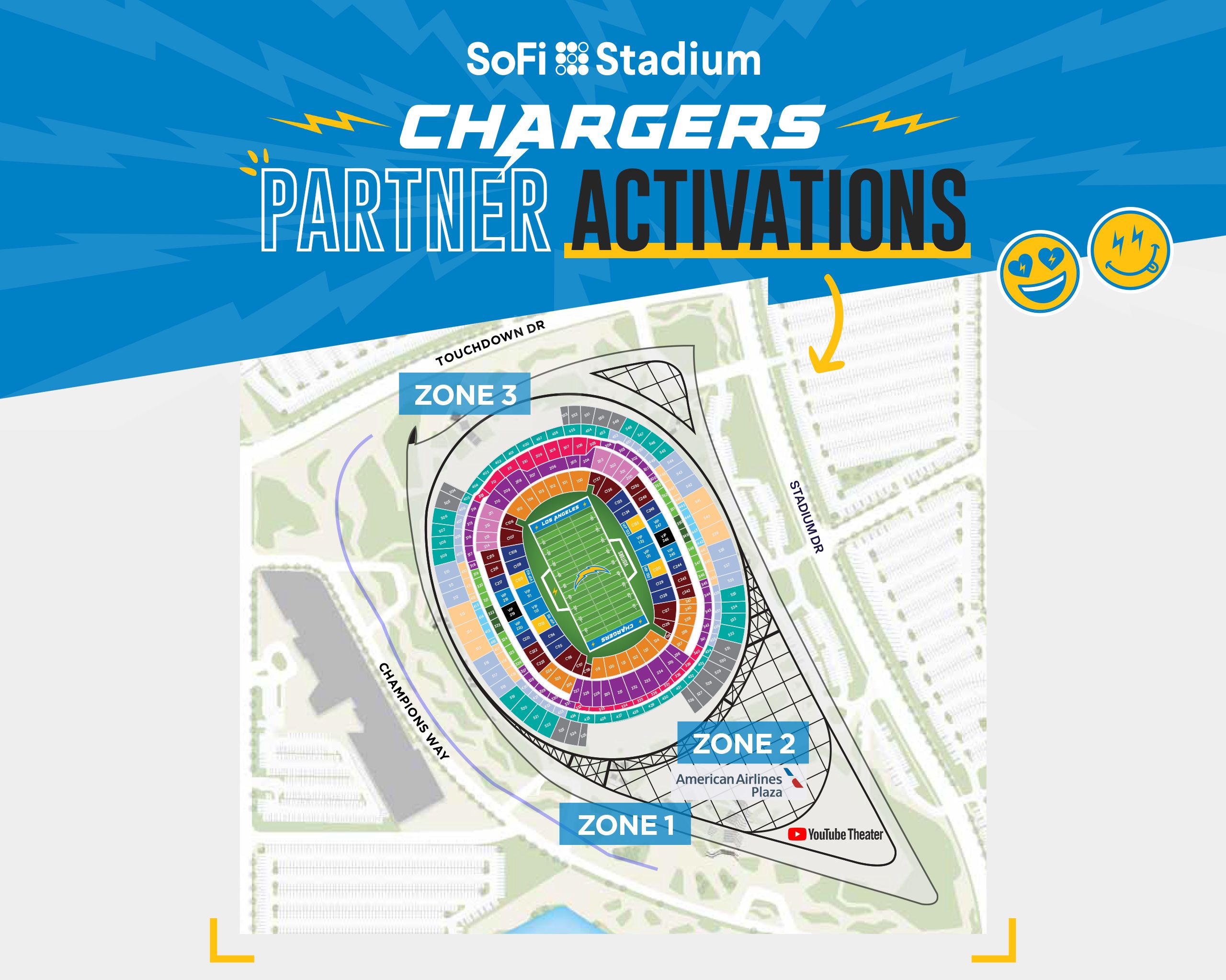 SoFi Member Benefits
Upgrade your SoFi Stadium experience today. SoFi Members enjoy exclusive perks on Chargers game days. Download the SoFi app now to unlock these epic benefits.
Skip the long lines outside the stadium: Bypass the general public security lines through the SoFi Member Express Entry
Get 25% cash back: Use your SoFi Money or SoFi Credit Card on concessions and merch inside the stadium
Free bag check: Forgot about the clear bag policy? Don't worry - SoFi cardholders get reimbursed when using bag check
SoFi Member Lounge access: Located inside SoFi Circle on Level 4. Enjoy one of the best vantage points in the stadium. During pregame, stop by and meet your favorite Chargers Legends. Grab a seat on a comfy couch, hang out, and catch all the action. First come, first served!
Zone 1 - Lower American Airlines Plaza / SoFi Circle
SoFi Legends Live
Download the SoFi app and gain access to the SoFi Members Lounge located in SoFi Circle on Level 4. Join us before the game from 12:00 - 12:30 PM for a Chalk Talk with Chargers legends LaDainian Tomlinson. No pictures or autographs will be permitted due to COVID-19 protocols.
Toyota
Fans stop by the Toyota activation space to check out the Chargers-themed Toyota Highlander on display. While there, spin a wheel to win Toyota-themed prizes!
Smirnoff
Visit our activation to sample Smirnoff products and hear more about different holiday themed cocktails. You must be 21 or older to participate and please drink responsibly.
Oakley
Come check out the newest in stylish athletic eyewear courtesy of Oakley in Lower American Airlines Plaza before heading into The Equipment Room to buy a pair of your own. Also pose for a photo next to our Derwin James photo op!
Zone 2 - Upper American Airlines Plaza
McDonald's
Who loves free gaming!? Stop by the McDonald's Gaming Truck outside entry 5 and play a variety of different video games for a chance to win McDonald's prizes. Games at the truck include classics like Mario Kart, NBA 2K, Madden, and more!
Ball Corp
Aluminum Charger - Become the "Aluminum Charger"! Fans will stand in front of a screen and camera and watch themselves be digitally transformed into this superhero-aluminum character.
Inner-City Arts Display - Fans can check out an artistic display created by young artists from Inner-City Arts created from over 1000 crushed aluminum cans into briquettes and painted to make them their own!I
Adriana's Insurance
Watch live programming on the Adriana's Insurance LED videoboard truck while you enjoy pregame festivities!
Hyundai
Don't miss out on visiting Upper American Airlines Plaza and come see the newest models of Hyundai vehicles on display!
iFit
Ready to feel the burn? Stop by our friends at iFit and try out the latest and greatest in at home exercise equipment. They will be getting a quick workout in right through the gates into the stadium's concourse.
Zone 3 - Northwest Exterior / North Entrance
Ford
Come check out some of the newest models of Ford vehicles on display outside of Entry 5. While there, ask them about Chargers themed giveaways!
BMW
Get an up close and personal view of the newest models of BMW vehicles! They are on display outside of Entry 6.
Ciroc
Stop by our Ciroc stand and enjoy premium sampling next to Entry 2. You must be 21 or older to participate and please drink responsibly.