Chargers Official Site | Los Angeles Chargers - chargers.com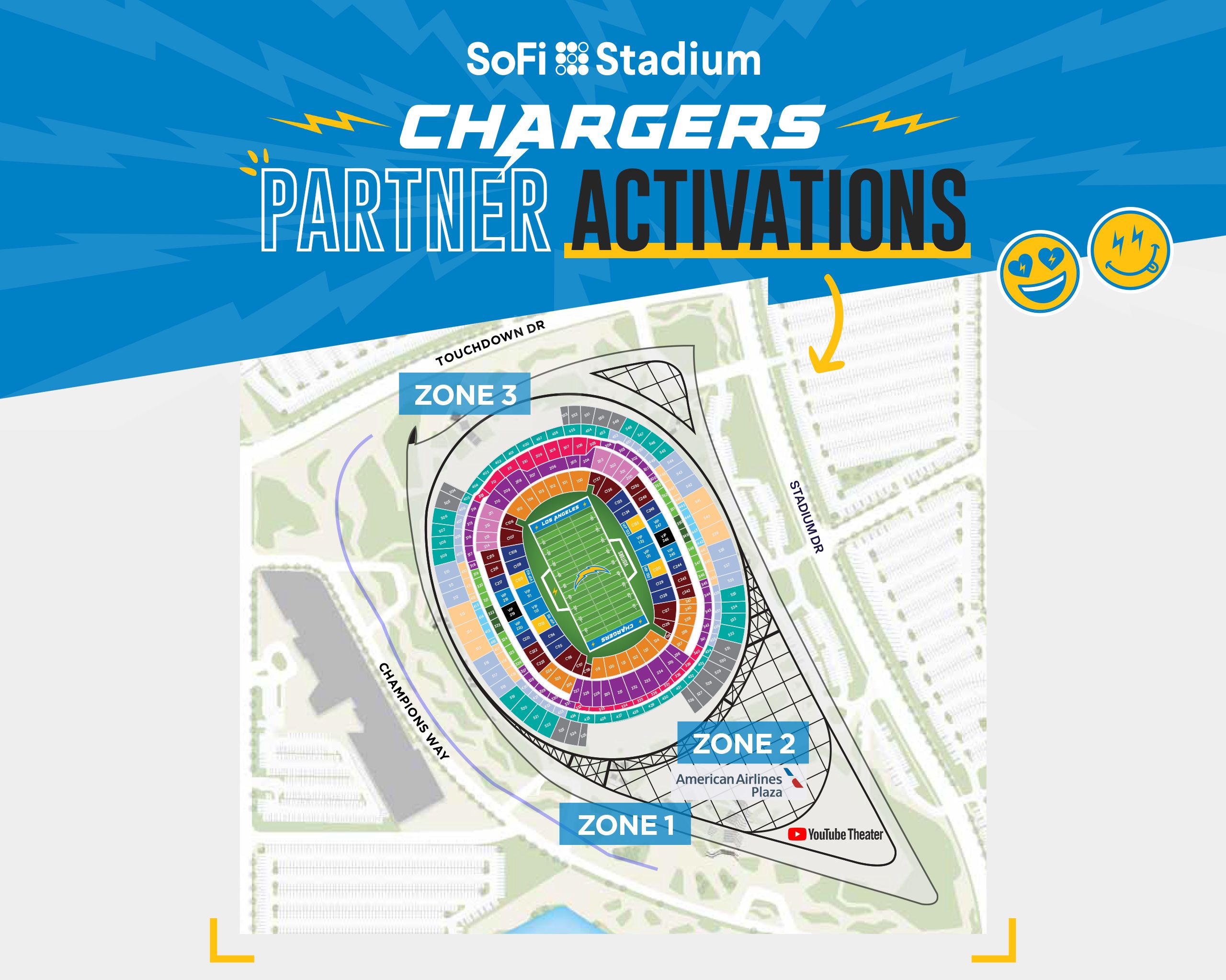 SoFi Member Benefits
Upgrade your SoFi Stadium experience today. SoFi Members enjoy exclusive perks on Chargers game days. Download the SoFi app now to unlock these epic benefits.
Skip the long lines outside the stadium: Bypass the general public security lines through the SoFi Member Express Entry
Get 25% cash back: Use your SoFi Money or SoFi Credit Card on concessions and merch inside the stadium
Free bag check: Forgot about the clear bag policy? Don't worry - SoFi cardholders get reimbursed when using bag check
SoFi Member Lounge access: Located inside SoFi Circle on Level 4. Enjoy one of the best vantage points in the stadium. During pregame, stop by and meet your favorite Chargers Legends. Grab a seat on a comfy couch, hang out, and catch all the action. First come, first served!
Zone 1 - Lower American Airlines Plaza / SoFi Circle
SoFi Legends Live
Kassim Osgood will be on Legends Live from 11:30am - 12:00pm and Antonio Gates will be up from 12:00pm - 12:30pm.
Toyota
Fans stop by the Toyota activation space to check out a brand new Toyota vehicle on display. While there, spin a wheel to win Toyota-themed prizes and challenge your friends to a game of cornhole!
Smirnoff
Visit the Smirnoff and Buchanan's activations in Lower American Airlines to sample Latino Heritage inspired cocktails and hear more about their plans for the 2022 NFL season. You must be 21 or older to participate and please drink responsibly.
Zone 2 - Upper American Airlines Plaza
McDonald's Gaming Truck
Who loves free gaming!? Stop by the McDonald's Gaming Truck outside entry 5 and play a variety of different video games for a chance to win McDonald's prizes. Games at the truck include classics like Mario Kart, NBA 2K, Madden, and more!
Adriana's Insurance
Watch live programming on the Adriana's Insurance LED videoboard truck while you enjoy pregame festivities! You can also toss around their inflatable footballs and capture your experience at the sponsored photo op.
Hyundai
Don't miss out on visiting Upper American Airlines Plaza and come see the newest models of Hyundai vehicles on display! Partake in the inflatable helmet football toss and enter for a chance to win Hyundai-themed giveaway prizes!
Oakley
Come check out our painted mural of some of your favorite Chargers courtesy of Oakley in Upper American Airlines Plaza before heading into The Equipment Room to buy a pair of their newest stylish eyeware.
Zone 3 - Upper American Airlines Plaza
PegasusLA
Low Riders are a staple of LA culture. Outside of Entry 5 you can come see these beautiful cars in person and learn about lowriding's rich history.