Teammates on the field and friends off it, Michael Badgley and Isaac Rochell started "The Mike and Ike Show" to bring fans a unique, athlete-centric view into the inner-workings and lives of Chargers players such as Austin Ekeler, Derek Watt, and other teammates.
"I think the goal is like just whatever happens in the conversation, happens," Rochell said. "If you get to know a player better, if you take something away that's inspiring, or if they have a hobby that's super-interesting that we get to learn more about, that's great."
The idea of starting a podcast, which began during this year's training camp, fulfilled a dream Badgley's had since his college days at the University of Miami, while Rochell attests that his own comfort in an interview setting and the teammates' close friendship inspired them to start creating content together.
While the two are often seen together playing cards in the locker room or chatting on the sidelines during a game, they became friends soon after Badgley was signed by the Chargers in 2018.
"When I first got into the locker room, I was just walking around like I was a ghost," Badgley said. "I didn't know anybody. You see Philip Rivers and you're like, 'Holy cow.'" (Rochell) came over, and he introduced himself, and he was genuine and one of the nicest guys I ever met."
Meanwhile, Rochell attests that Badgley, who returned to the field this past Sunday against the Packers making 4-of-5 field goals, is "super-relatable" and has a "contagious personality," but is also "first team all-talk, no doubt."
According to Rochell, Badgley is the "opposite" of the stereotypical reserved NFL specialist. Instead, the kicker often goes by the moniker the "Money Badger," a nickname that Badgley recently trademarked, and is one of the louder voices in the Chargers' locker room.
From being around each other constantly throughout the NFL season to "chopping it up" on team flights and moving into the same apartment complex, "Mike and Ike" have built a camaraderie which translates to on-air chemistry.
"Our chemistry is natural," Badgley said. "It's almost like we just know when to start talking or when to jump in on something (the other is) saying. We just bounce off each other perfectly."
This chemistry and natural friendship may come as a surprise to some, as the defensive end and kicker couldn't be more different at first glance. The 6-foot-4 280-pound Georgia native Rochell has a calm and low-key demeanor, while Badgley is a 5-foot-10, 180-pound New Jersey native whose extroverted personality exudes confidence.
"Obviously we come from two totally different backgrounds," Rochell said. "But I think what it gives you is the opportunity to relate to anybody. You look at the different types of personalities we have in our locker room, (and) one of us will be able to connect with somebody no matter what."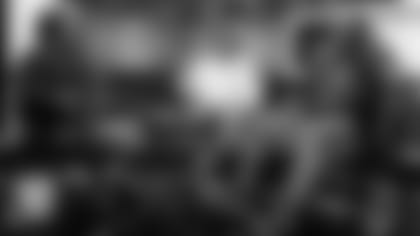 What began as an exploratory search into the world of podcasting has transformed into an enthusiastic interest and off-the-field hobby. And with each episode, the chemistry between the duo is fueled by genuine curiosity and an interest in learning more about their guest that particular week.
"What allows us to bounce off of each other is genuinely being intrigued by who you're interviewing," Rochell said. "Allow yourself to be curious, and if two people are curious interviewing somebody, it's easy to bounce off each other."
Badgley and Rochell have drawn their journalistic approach from a variety of places. While Rochell has learned a lot from watching the web series 'Hot Ones,' Badgley grew up listening to the Howard Stern Show.
The kicker admired the ways in which Stern made even the most constricted and closed-off guests feel comfortable and relaxed, an interview technique Badgley emulates in order to get the most out of his guests.
"It was like the craziest concept to me that he was able to always get the best out of everybody," Badgley said.
However, both Mike and Ike have learned that one can't just buy podcast equipment and become Howard Stern. The duo mentioned that one of the most surprising things about starting the podcast has been that the moment the camera turns on, teammates who are normally talkative and casual start to stiffen up and enter what the duo calls "interview mode."
"It's easy when you're the guest, right?" Badgley said. "People are just asking you the questions, but when you're the host, you gotta do your research, you gotta ask the questions and make sure your facts are straight so it's a whole different ball game but I enjoy doing it."
Consequently, the duo will use the first moments of each episode to break the ice and "pump the tires" of each guest. For example, Badgley will start off each episode by letting out an enthusiastic, "let me introduce this guy", and subsequently lists off the many personal accomplishments of their guest.
"I always try to get them to smile," Badgley said. "You gas them up and juice them up as much as you can where they're like, 'Wow, that's a great intro,' and even sometimes they're like, 'I didn't know I did all of that stuff,' and then it kinda just opens them up a little bit."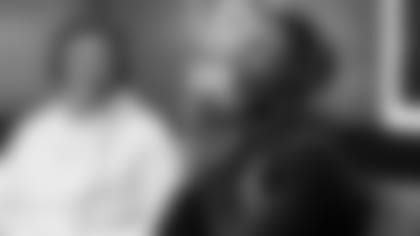 Meanwhile, Rochell will hype up the guest even further by letting them know "what a beast" they are. This "juice man" mentality is something the defensive end does when one of his teammates makes a big play on the field, and is indicative of the energy he brings every episode.
"Look, our guests are the beasts of the interview," Rochell said. "We want to learn all the good things about them."
Once Mike and Ike have their guests feeling comfortable, the stories start to flow. From lighter topics such as Justin Jones' massive sneaker collection, to more serious discussions about overcoming adversity with Austin Ekeler, learning from their guests is what Mike and Ike enjoy most about hosting the pod every week.
"The craziest thing is that I've learned so much and I can honestly say I've become a better football player because of the interviews," Rochell said.
For Rochell, discussing the tenacity, work ethic, and raw ability of his teammates week in and week out has helped him work through the mental side of his game.
"When you interview guys like Justin Jones and he's talking about believing in himself and talking about rewiring your mind to see yourself as a beast, that stuff is inspiring and you realize that you're amongst some of the best athletes in the world" Rochell said. "You realize, why am I not picking everyone's brain and learning information from them?"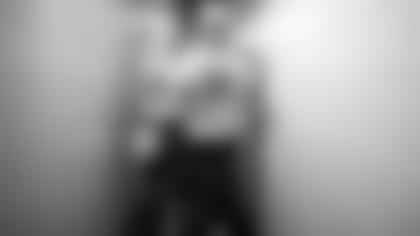 Meanwhile, Badgley said he took a lot away from their interview with Austin Ekeler, attesting that he developed a "whole different perspective" on the running back's background.
"I love it because I'm a content creator myself," Ekeler said. "I think it's awesome and that's why I was excited to get on the podcast to see what's going on."
Ekeler, whose workout videos on Instagram and YouTube channel "Tay N' A" highlight the running back's life away from the field with his girlfriend, says that player-driven content creation is like "taking your helmet off and showing people another side of you."
However, with the rigors of the NFL regular season, Ekeler mentioned that time for planning, filming, producing and editing episodes becomes understandably difficult, but believes that Badgley and Rochell have the enthusiasm needed to keep the momentum rolling.
"It gets hard," Ekeler said. "There's so many ideas but you actually have to come up with the ideas and make it work. But if they can find the time and stay motivated, shoot who knows I think they can take it as far as they want."
When asked where "The Mike and Ike Show" will go from here, the duo hopes to expand their guest list to outside of the locker room. So far, the likes of entrepreneur Gary Vaynerchuk and MMA fighter Cris Cyborg have hopped on the podcast, with more interesting guests to come.
"The pod will go where it goes," Rochell said. "I'll continue to learn from my teammates and let me continue to become a better person and learn along the way."
Regardless of whether the podcast becomes larger than life, both players believe that the skills they're practicing hosting a podcast can prepare them for careers in sports broadcast down the road, an idea both are very interested in.
"I would love to," Badgley said. "I mean, I like doing stuff like this, and I like talkin' to people. But I think I'll roll with this kicking thing for a little bit longer. But down the line, yeah, that'd be awesome."
"After playing, it'd be a dream job," Rochell said. "Can you imagine 'Mike and Ike in the Morning' just like they had 'Mike and Mike in the Morning'? Just sittin' around talkin' ball, it'd be crazy."