Back in May, the Los Angeles Chargers held an initiative to help "bolt up" and support a small business.
"We felt that it was important for us to continue supporting our community that has been so hard-hit by COVID-19," said Chargers chief marketing officer Steven Ziff. "Small businesses are the lifeblood of Southern California and we felt that this was a very unique way for us to give back to at least one of them and help promote their business across the region. Ultimately, we're a family-run organization and want to support all of Los Angeles and the surrounding region as part of our Bolt Fam!"
"This is an amazing opportunity for any small business owner, especially because of these uncertain times when a lot of small businesses are being forced to close their doors and let their employees go," said Wendy Ramos of Alvarez Backflow Co. "So for a franchise as big as the Chargers to find a creative way to support small business owners speaks volumes for what they do and stand for as far as supporting their communities. On top of that, to take a chance on such a (unique) industry as ours is very challenging, but we know they are up for the challenge and really appreciate them offering this amazing opportunity to put out business out there."
Alvarez Backflow Co. is a veteran owned and family operated business which focuses on backflow testing and repairing to maintain standard of safe drinking water throughout the community.
Though they officially opened in Orange County in 2016, Tony Alvarez and Ramos have since expanded to serving Kern County as well. The business got started from skills Alvarez learned in the military on water treatment and distribution and chose to open the business to transition back to civilian life after two tours in the Army. He also wanted to train in other areas of water treatment but realized there weren't many places that offered that service.
From there, Alvarez and Ramos chose to not only open their company dedicated to testing and repairing, but also to "serve as mentors" for those who wish to expand their knowledge of water treatment.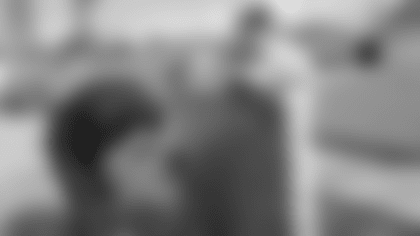 "Our biggest hope is this opportunity will generate business, of course," Ramos added. "But beyond that, we hope that this will educate our community as far as what backflow prevention is and why it's so important to test and maintain those devices yearly. We also believe through it all, a little education can provide an extra layer of protection to ensure the safety of our drinking water. We have come across many devices that have not been tested or repaired in years and that's a really scary situation. But hopefully with this opportunity, we can bring attention to the importance of yearly testing to protect everyone's water."
Ramos said they were shocked upon finding out they won and are beyond grateful for the Chargers and what they did to help support their business in these challenging times.
"I think most importantly, that's why we are fans of the Chargers. Every franchise does their thing, and everybody has their way of connecting to the fans. But the Chargers have a unique way of connecting to the community; the food bank (donations), the events they create. We've been to so many events with the Chargers where it doesn't feel so generic, it feels (like a home). It feels like you've come into this family and people really do care … it's such an amazing atmosphere that they bring, and I appreciate that as a fan. I think that's what's made me support them so much. During these times, I keep looking at the different things they're doing, and it's like they don't stop!"
Additionally, Ramos credits her family as being one of the most important parts about their business. Much like the Chargers being family-owned, Ramos and Alvarez know how much work goes into making a family-run business successful and making all of their employees feel like family is something that they preach from the top-down.
"It's taken a long time and a lot of effort and sacrifice to make it this far and it's that support for each other that's made us strong," Ramos said. "A lot of businesses say, 'When you work for us you become part of our family,' and that's such a great feeling , but for us it's truly our family out there every day in the sun or rain, at the crack of dawn or the late night hours, and anyone who later joins our team won't walk into a company with a family motto, but rather literally become one of the family."