On Monday, the Chargers hosted the third annual Los Angeles Chargers Invitational, presented by Children's Hospital Los Angeles.
The Chargers returned to Rolling Hills Country Club after a two-year hiatus due to the COVID-19 pandemic to host the fundraising event that benefits the Chargers Impact Fund.
Current players, Chargers Pro Football Hall of Famers, celebrities and more packed the patio outside of the course's clubhouse before they hit the links to shake hands, smile and connect with people in attendance while also providing the chance to give back.
Quarterback Justin Herbert was one of the many current players who teed off Monday. Herbert, whose golf game got high praise from his fellow teammates, talked about what it means to be part of an event like the Chargers Invitational.
"I think it's for a great cause," Herbert said. "The Chargers Impact Fund has done such a great job in our community, to be able to come out and help with all the great things they've done [and] especially spend some time with your teammates, it's always a good time."
Head coach Brandon Staley also played in the tournament. Staley used the time to chat with Hall of Famer Dan Fouts before the round teed off. Staley talked about the importance of having players from the past and present together in one setting and what it means to give back to the community of L.A. and the NFL community as a whole.
"That's the platform you have in the NFL," Staley said. "And that's the platform you have to take advantage of and I know that for the Chargers, that's something important to the Spanos family, to our football team specifically, all these players, and that's something we talk a lot about in our team meetings … We want to make sure that we take advantage of this platform to connect to your communities back home, our community here in Los Angeles, and the broader NFL community…"
Chargers legendary running back and Hall of Famer LaDainian Tomlinson talked about the 'community' and 'family relationship' the Chargers have and what the benefits of an event like this has for a team.
"Mostly comradeship that you have with the former players and current players," Tomlinson said. "Also, the rare opportunities you get to interact with our sponsors that have been great sponsors for the team. We don't get a chance, especially as players, to interact with the people that really support this team until we have events like this. So I think that's what today is all about, showing the love to the people that support this organization."
As the players headed to their carts to get the tournament underway, Chargers President of Business Operations A.G. Spanos brought up a special guest to tell his inspiring story. Spanos introduced Caleb Jones-Moreno who was accompanied by his father, Alex, and best friend. Caleb has courageously been fighting cancer for the last several years and has gone through over 20 chemotherapy treatments since 2019.
Back in 2019, Chargers OLB Joey Bosa gave Caleb Super Bowl tickets when Caleb came to visit Hoag Performance Center and at the golf tournament, he was given a new gift: a brand new powder blue jersey signed by Bosa.
Shortly after that moment, the tournament was officially underway and the participants headed to their respective starting points. The Chargers offseason program will resume Tuesday, but the event on Monday marked an important time to relax, connect and give back to the community of Los Angeles.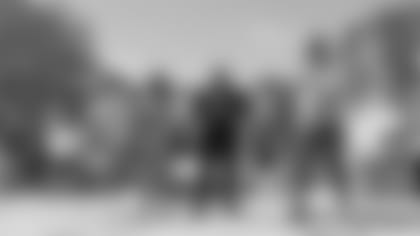 Bolt Up for 2022!
Secure your 2022 Season Ticket Memberships today! Click here to learn more.