---
---
Last week, I sat down with Joey Bosa to ask him a few questions for a season preview article for the Chargers' Gameday Magazine.
But those "few questions" turned into a full-blown conversation that lasted 12-plus minutes.
Long story short, it was too good not to share.
As one of the most candid players on the team, Bosa's not afraid to confront the past and be open about what lies ahead. No. 97 enters season 7 as a self-proclaimed "old head;" older, wiser, and grateful. Grateful for his teammates and not taking anything for granted.
So with that said, Bosa gave such great answers that with the 2022 season upon us, we'll be checking in with Chargers players throughout the year.
And lucky for us, he kicks this one off.
---
---
What did you learn about this team last season?
Bosa: I learned that resilience is one thing, but it shows how much goes into winning a game beyond talent and beyond the pieces. I think with time as we're together longer, and we're building a connection, the talent comes together as one and we'll become more of a team and are able to pull through in those close situations. Yeah, we did in a few [games], but in a few others we didn't.
I also learned watching the playoffs that it's really anyone's game once you get in there. So, I think we have just as good of an opportunity as anyone else, that's for sure. I think it's just about getting into the dance and executing at that time of the year.
But shoot, we're getting closer. I'm closer to my teammates than I've ever been.
Bosa: I think personally for me, just opening up more and trying to build relationships. Whereas before, I would kind of just either rush home or keep to myself, except for a few people. Now, I'm the old head who has no filter anymore. I dunno, I open up easier and obviously when you open up, other people open up, and that's when the relationship kind of starts forming and you get closer.
But I think the additions of the D-linemen who came in and Khalil [Mack] it feels like they've been here. It's kind of hard to think they weren't here last year because it feels like we're together already.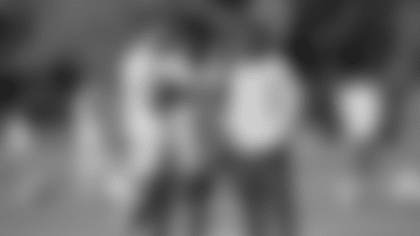 You've been on a lot of different Chargers teams, is it weird that you and Keenan [Allen] are the two longest-tenured drafted Chargers left?
Bosa: The only ones. And [outside linebackers coach] Giff [Smith]!
Bosa: Yeah, it's funny to think just how many people have come and gone in that time. Coach put up the number – whatever it was – 1,000 or however many thousand players there are on 53-man rosters and to see how many of those have cycled through the years and I'm still standing strong.
It's tough with cuts. E [Emeke Egbule] is a good buddy of mine and he just got let go. It hurts. Chenna [Uchenna Nwosu] left, but it's good to see him get his contract and go play. It changes fast and you don't really know how long you're gonna have an opportunity to be a team so, I don't take it for granted, that's the lesson I can learn from that.