Laguna Beach High School senior running back Bella Rasmussen made history earlier this month as she became the first female varsity football player in California history to score two touchdowns in a single game.
Rasmussen's historic achievement has garnered her national and local recognition, and a chance to share her inspiring story.
Rasmussen on Sunday was at SoFi Stadium, where she 'kicked off' the Bolts Week 7 matchup against Seattle by firing the Chargers historical cannon just moments before kickoff.
"I am shaking," Rasmussen said moments after firing the cannon. "I was so excited, but I was like, 'Oh my gosh, I hope I do this right.' But that was surreal, I'm still in shock right now."
Rasmussen described what the past week has been like for her and her family as her schedule quickly shifted from balancing schoolwork and football to now being an overnight sensation following her historic accomplishment.
"It's so hectic," Rasmussen said. "I mean, me and my mom we've been on and off. If I'm not at school, I have people texting me and if I'm at school I have people texting me.
"I had to do a lunch interview during my lunch hours," Rasmussen added. "I have people calling until 9, 10 o'clock at night trying to setup interviews. I'm up at six in the morning getting ready for interviews."
Despite her busy schedule, the running back couldn't be "more grateful" for the opportunities that have come here way since her two-touchdown performance on October 14.
"It's been incredible, it's an amazing opportunity," Rasmussen said. "Something that you know there's people that are never going to experience it and it's once in a lifetime. I just couldn't feel more grateful."
Along with getting to fire the historic cannon, Rasmussen was also given a custom Navy Chargers jersey that sported her last name and No. 24, the number she wears as member of the Laguna Beach Breakers.
Rasmussen, who started playing youth football at the age of 6, talked about what it has meant to get invited by the Chargers to the game, but to also be a part of a game-day tradition that dates back to the early 1960s when the team was still part of the American Football League.
"We're talking about something that I hadn't even thought about. [I didn't know] anything like this would happen playing football," she said. "I mean, when I started playing football it was to play football you know?
"And when I scores, it was to score a touchdown in a football game," Rasmussen continued. "This is incredible, I mean I feel so blessed to have all these opportunities.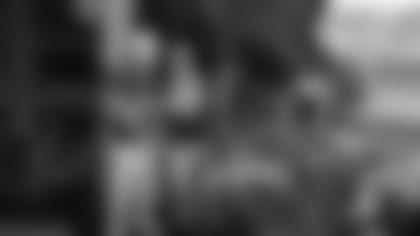 "To have the NFL, like we're talking the National Football League, the L.A. Chargers, this is a professional football team," Rasmussen added. "These are guys that I watch on TV all the time and they are reaching out to me, they want to know who I am, that's amazing."
Chargers Head Coach Brandon Staley talked about the importance of connecting with people like Rasmussen, and why it's important for the Chargers to use their NFL platform to share her inspiring story.
"That's what we want to be able to do, being here in Los Angeles, is to connect at the grassroots level of football, in our community, of really making Southern California and the City of Los Angeles our home," Staley said. "Any time that we can connect with people like that, that's what we want to do. Know that the Chargers are always going to be present for people like that. Football brings people together, and I'm glad that we could do that for her."
Rasmussen hopes to inspire people not just on the gridiron, but in all facets of life.
"You know, I just hope it teaches people to believe in themselves, little girls especially," she said. "I mean, they are taught to be in such a little box, like girls are supposed to be a certain way.
"I think it's so important that we teach them that they can believe in themselves and they can do whatever they want," Rasmussen added. "Even if it's something that a guy does, you are just as capable as anyone else."
Bolt Up for 2023!
Secure your 2023 Season Ticket Memberships today! Click here to learn more.