Chargers Official Site | Los Angeles Chargers - chargers.com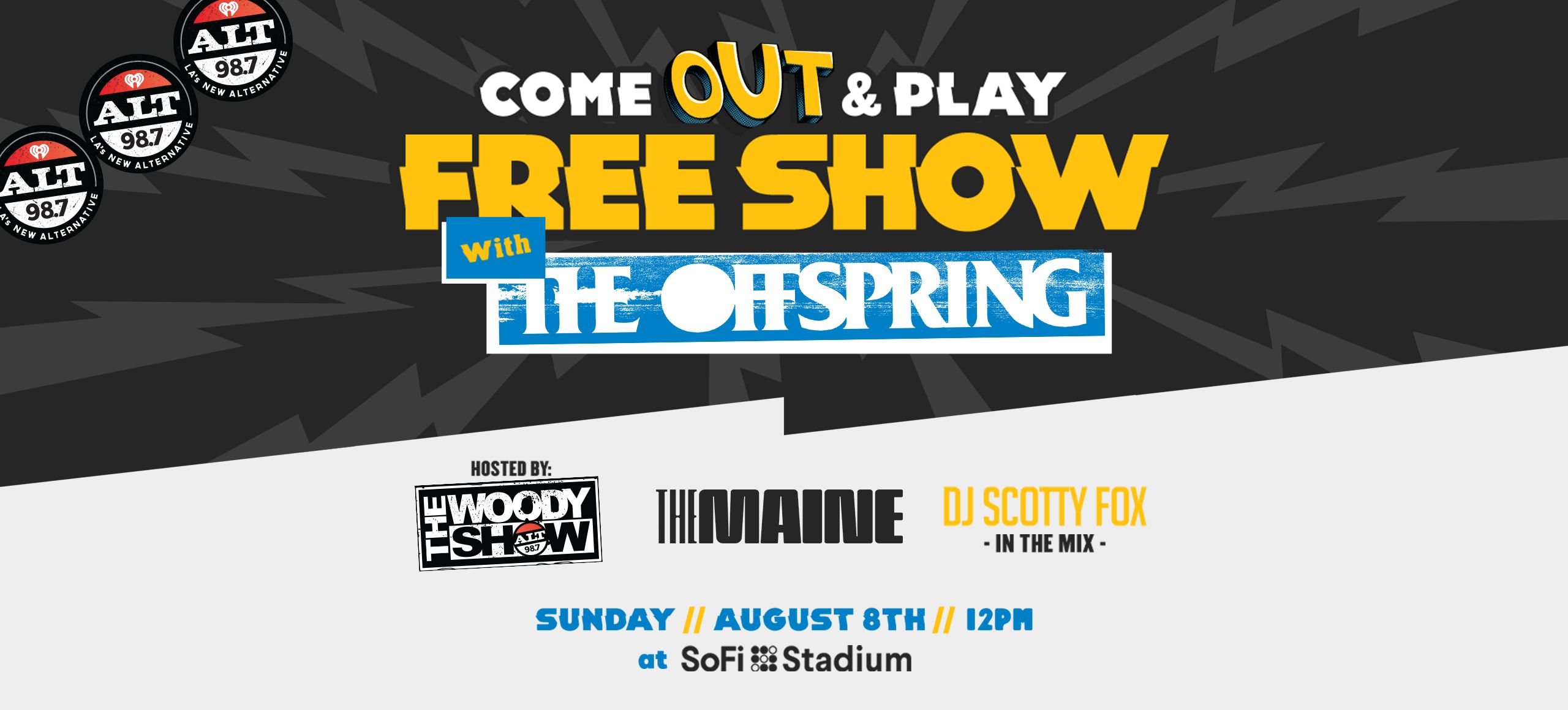 SEE YOUR BOLTS TAKE THE FIELD AT SOFI STADIUM!
Join us at SoFi Stadium on August 8 for an incredible day of football, music and much more. FanFest will begin with ALT 98.7's "COME OUT AND PLAY" – A FREE show with The Offspring and The Maine in The American Airlines Plaza at the all new SoFi Stadium from 12:00 - 3:00 PM.
ALT 98.7's "COME OUT AND PLAY" is part of the Los Angeles Chargers FanFest, and will be hosted by ALT 98.7's #1 rated morning show, "The Woody Show" and DJ Scotty Fox. Immediately following the show, all fans are invited to check out the Los Angeles Chargers open team practice happening inside SoFi Stadium for free.
Reserve your tickets by clicking the link below and selecting your seats. These will be your seats to watch Chargers practice and will give you access to the show! Additionally, the best parking is available for a $10 donation to the Chargers Impact Fund, a 501 (c3) nonprofit, to help families thrive in and around Los Angeles. A free parking option is also available.
HOW TO SECURE YOUR TICKETS
Click on "Get Your Tickets"
Select your seats and add them to your shopping cart. These seats will give you access to the show as well as the practice.
Login to your My Chargers Account account or create an account by clicking on "Sign Up"
Follow the checkout instructions
Add parking
Complete Questionnaire
After completing Questionnaire Submit your Order
Your mobile tickets will be available after checkout!
How do I access mobile tickets?
You can view your mobile ticket(s) including parking passes by using the web browser on your phone to log into Chargers Account Manager on Chargers.com/am. You can also use the Chargers app under the Tickets tab to log into Account Manager. Please make sure to use same email address that is on your season ticket member account, or the email address that was used to obtain your tickets.
You can download the Chargers app on your iPhone here or on your Android here. Once logged into your account, select the event you would like to manage, and then click "View Barcode" to display your mobile ticket which will be scanned in for entry into SoFi Stadium. We highly encourage fans to save your mobile tickets to your wallet before arriving at SoFi Stadium.
Does my child need a ticket?
All guests two (2) years of age or older must have a ticket in order to attend Chargers games Strollers and diaper bags are prohibited for Chargers Games at SoFi Stadium.
What type of phone or mobile device do I need to use mobile tickets?
Any smartphone or mobile device that has internet capabilities and can access the Account Manager can be used to access mobile tickets.
Can I forward tickets to friends or family?
Yes. Mobile tickets can be transferred to friends or family by first logging into your Chargers Account Manager and following the full transfer instructions. Click Here to view our transfer guide. Recipients of tickets will be required to log into their Chargers Account or create an account of their own to complete the transfer process. Once the recipient logs in or creates their Chargers Account and completes the ticket transfer, they can use the Chargers app or the web browser on their phone to visit Chargers.com/am to access their tickets and enter SoFi Stadium.
Can I cancel a ticket transfer?
If the tickets have not been accepted by the recipient, the sender can cancel the ticket transfer and reclaim the tickets. Once the tickets have been accepted, you no longer have access to them.
Pursuant to our ticket policy, the Chargers reserve all rights on the mechanisms or format of ticket delivery or use, including the use of a mobile-only platform. If tickets are not accepted by the start of the event they will return to the sender.
Can I print my tickets or take a screenshot of the ticket?
As part of our ticket policy, screenshots will not be permitted for entry. Additionally, mobile tickets may only be transferred or forwarded electronically through the Chargers Account Manager. Mobile tickets cannot be transferred as a PDF using any other form of delivery and neither PDF printouts nor on-screen PDF tickets will be allowed for entrance into the game.
What if I don't have a smartphone? How do I access my tickets?
All tickets are mobile only and can only be managed through your Chargers Account Manager. Don't have a smartphone? You can utilize another member of your party's smart phone to present your ticket or pass.
How do I know which gate is closet to my seats?
Your mobile ticket will indicate the gate that is nearest to your seats. You can view our stadium map and entry points by clicking here.
Having trouble accessing my mobile tickets. What do I do?
If you have any trouble with your tickets please dial 1 877-CHARGERS opt. 2 to speak with a Chargers representative or email guest.services@chargers.nfl.com.